For The Rider Who Cares About How They Look…
The Bulky Armor Days Are Over.
Introducing The New LTR Aramid Armored Riding Jeans
🧶 Woven with Aramid Lining
🏍 10,000+ Riders Protected
💰 30-day Money Back Guarantee
Modern Fashion Cuts. Extreme Protection.

The Best Gift Of 2023 For (Any And All) Riders
About These New Armored Riding Jeans
Fit great, super comfortable, and worth every penny!

Pants saved my legs from roadrash only walked away with a few bruises

These pants feel protective and they have style. No Complaints!

Most importantly, gives me the confidence that if for some reason I was to go down, they would protect my legs!

Fit is spot on. Fabric is nice and soft with a broken in feeling. Better than my Dainese combats at almost half the cost.
The 4 Myths You've Probably Heard About Riding Gear
MYTH #1: Either Be Safe or Look Good
To us, there's no separation. We pride ourselves on giving you "the middleground": Riding jeans 5x stronger than steel that you can wear on AND off the bike, with material so stretchy and breathable you don't even notice you're wearing them.
MYTH #2: Proper Armoring Takes Space
If armored base layers aren't your thing, then the LTR Aramids are made for you. Our new ultra-reinforced anti-abrasion lining means you can stop wasting money on bulky gear you regret, and start riding to your limits with unrivaled freedom and protection.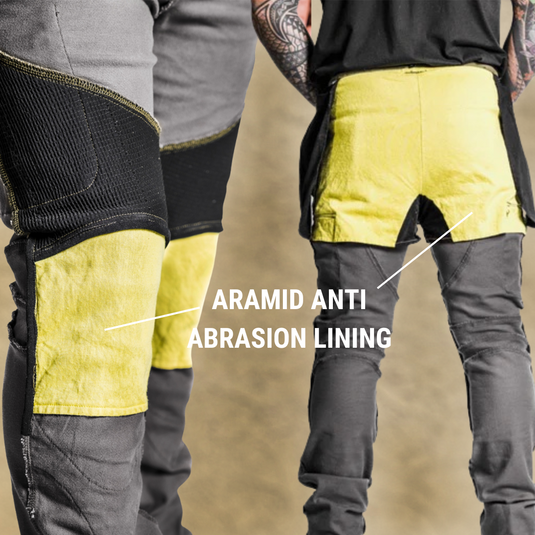 MYTH #3: Bikers Only Care About Safety
At NBT, we believe looking good is part of the culture. You shouldn't have to wrestle into riding gear that makes you look like an astronaut. You deserve to ride safely and still arrive to any destination without needing a change of clothes.
MYTH #4: If It's Safe, It's Uncomfortable
No way. The Aramid in these armored jeans promotes airflow and prevents overheating, which enhances your comfort while still protecting against abrasion. Plus, our virtual fit technology uses millions of data sets to ensure you find the size right for you.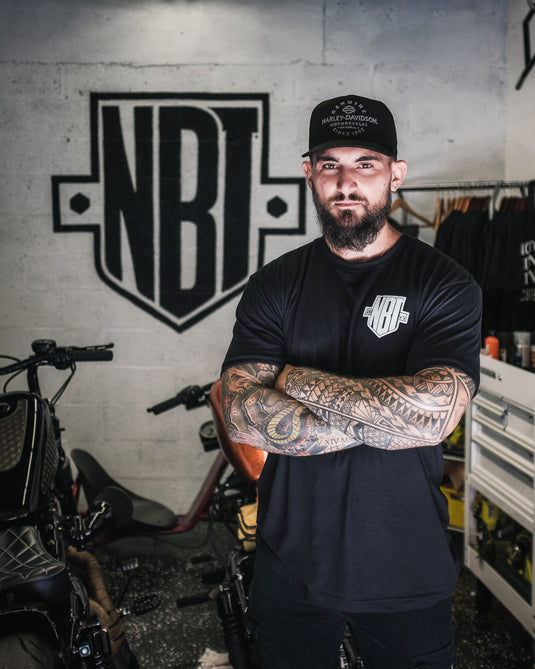 It was April 2021. I was out for a ride and my worst nightmare came true. I laid my bike down! My knee smashed right into a brick wall. I could barely walk for a month. I was lucky I didn't get hurt a lot worse.

If I was wearing our LTR pants, I would have been fine. But like most riders, I was wearing regular jeans because all the riding pants I tried were bulky and uncomfortable. So I rolled the dice… right into that brick wall.

I've been riding for 11 years, and this was the worst thing that ever happened to me on a bike. I'm one of the lucky ones. I was shocked when I learned that nearly 20,000 bikers suffer road rash each year.

Do you own protective gear? If not, please check out our store. And if you have protective gear, get more!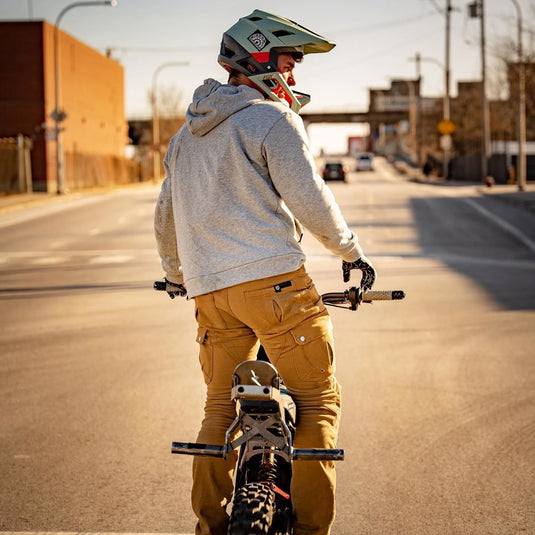 100% Satisfaction Guarantee
You've got 30 days to be sure you love em', we'll even pay for return shipping. Though we promise you, you'll be hooked from your first ride.
Free Shipping to the 48 Contiguous United States
Comfortable motowear coming your way soon. All orders ship from our warehouse in Northern California. And no one likes to pay for shipping! Based Internationally? We'll still ship to you!
In the unfortunate event you wreck in our gear, we'll replace anything you were wearing that was damaged at no charge. We want to make sure you're fully prepared next time you ride.
Experience Uncharted Freedom
With the LTR Aramids, you're not just wearing jeans – you're wearing confidence. These riding jeans are a statement. A symbol of your style and courage.
You shouldn't have to compromise between being safe and looking good. You deserve to feel the thrill of knowing you're protected by armor 5x stronger than steel, while turning heads with premium 11-ounce denim that hugs your every move. It's time to shatter the myths and embrace a new era of riding gear.
Join the revolution and make this year your year of unforgettable rides. Click 'Buy Now' and experience the true meaning of Uncharted Freedom.