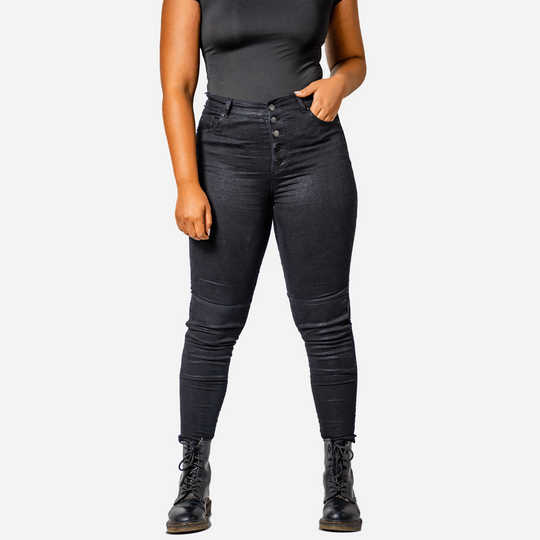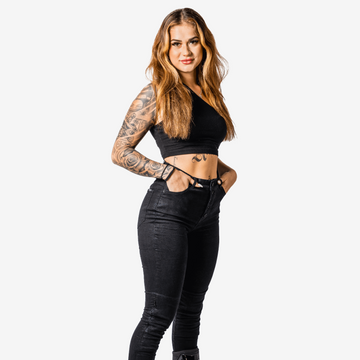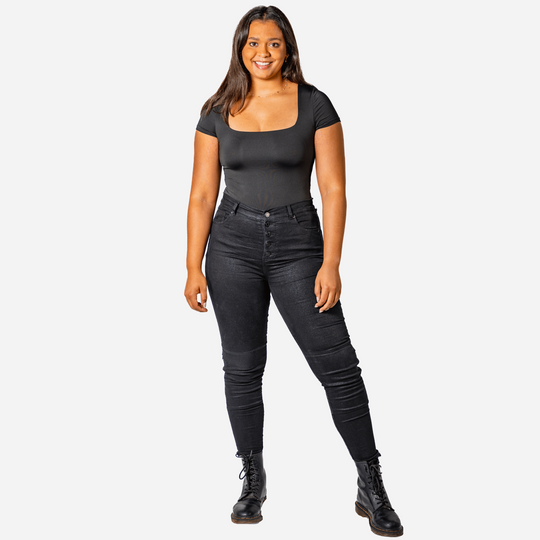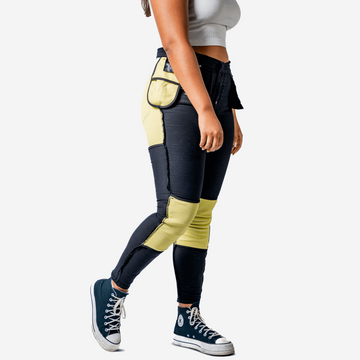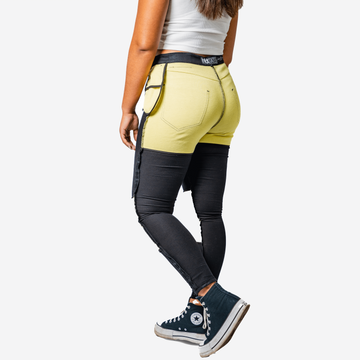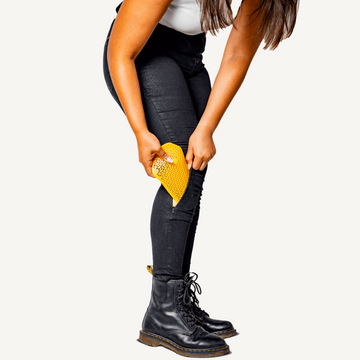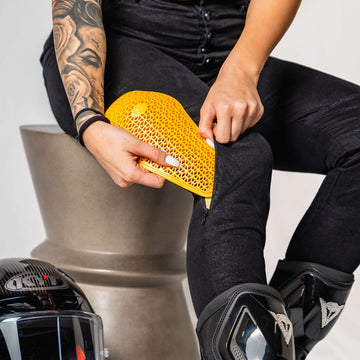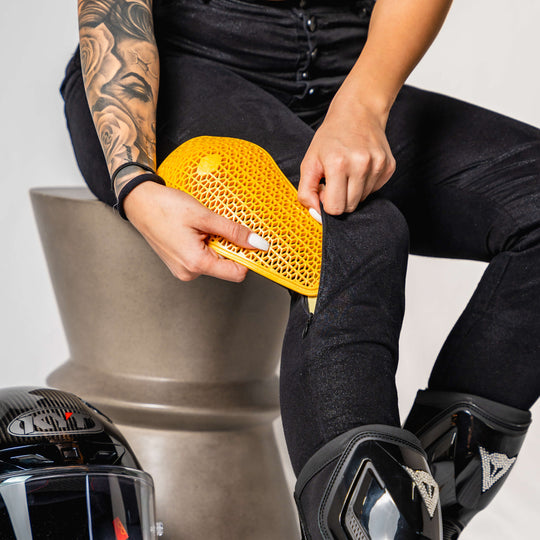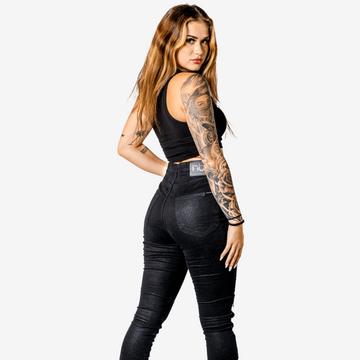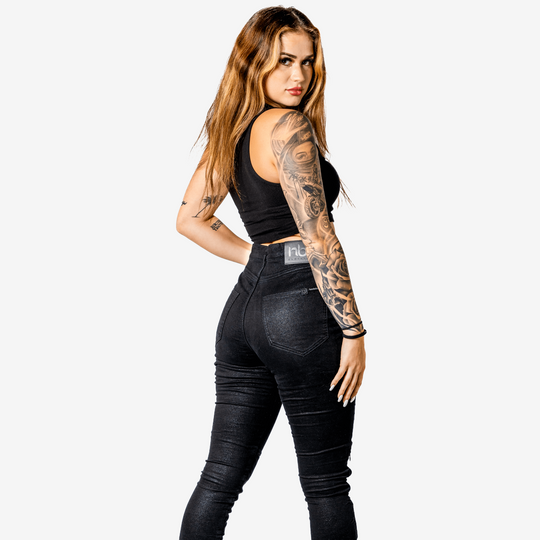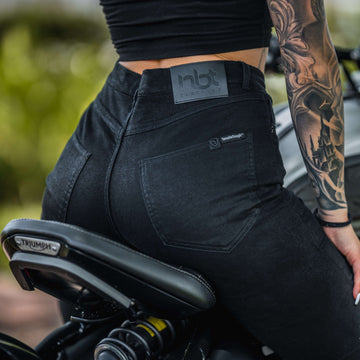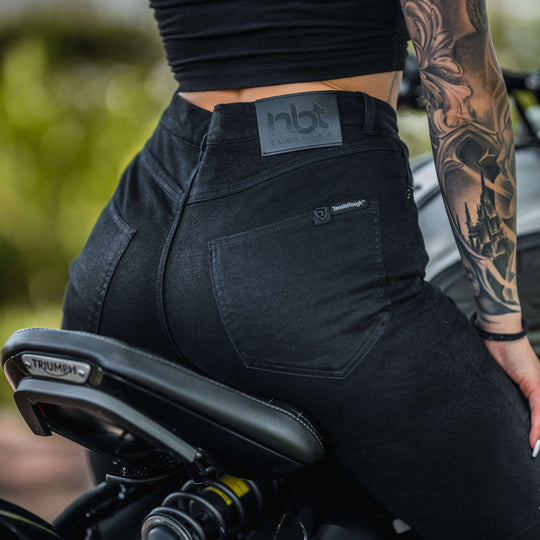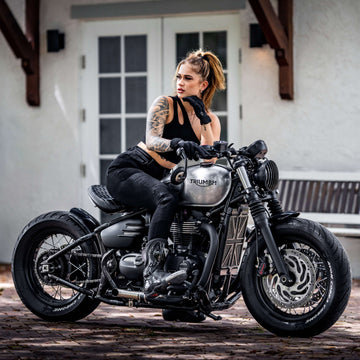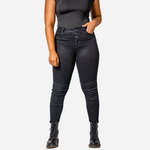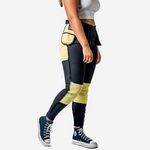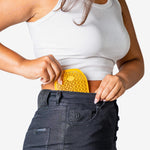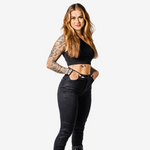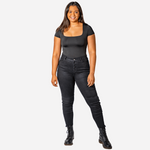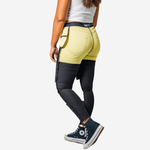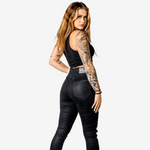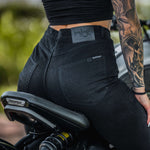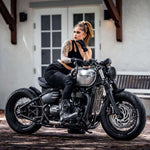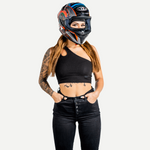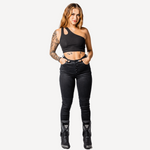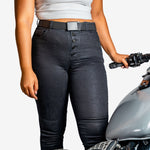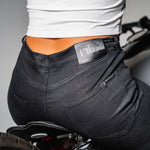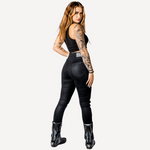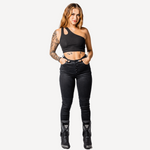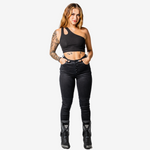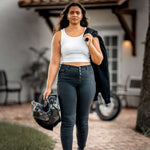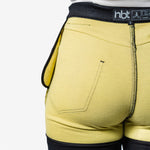 258 Entries
PROTECTION | STYLE | COMFORT
Slip into stylish riding comfort as the high-waisted design offers a flattering fit on and off the bike. Careful construction embraces your body's contours, providing a snug yet comfortable fit that's ready for any adventure. Designed for female moto riders with road rash resistant aramid lining and removable CE-rated armor in the knees and hips. These jeans truly can do it all.

We're so sure NBT will give you your most comfortable and confident ride we give you 30 days just to be sure you love them.
Free Removable CE Knee and Hip Armor to keep you safe

Incredibly Soft and Comfortable - 98% Cotton

2% Elastane for Comfortable Fit and Stretch

High-Waisted Skinny Fit for the Perfect Look

Coated Denim
Performance + Durability

When it comes to your safety, we spare no expense. Bia Goddess High-Waisted Coated Skinny Jeans are meticulously designed to provide you with the utmost protection while you embrace the thrill of the open road. With advanced features that prioritize your safety, you can ride confidently knowing you're equipped with the best.

TensileTough™ aramid lining for road rash protection in the glute and knee area
High-quality material blend to optimize comfort, durability, and flexibility
Free CE-approved knee & hip impact protection armor
High-Quality Button Fly
Comfort + Construction

BUILT FOR THE JOURNEY & THE DESTINATION™ Designed with a high-quality material blend to optimize comfort, durability, and flexibility. Details
Why Aramid?

Aramid is a synthetic fiber that's 5X STRONGER THAN STEELM while still being SOFT and LIGHTWEIGHT. We use it to keep you comfortable and protected from road rash. Often used in bulletproof vests, aerospace materials, and racing suits, aramid is synonymous with TOP-OF-THE-LINE protection Ever heard of Kevlar? Kevlar is aramid fiber. At NBT we call it TensileTough™
Care

Machine washable - Inside out.
Remove pads before washing.
Wash with cold water.
No bleach.
Hang to dry.
Warm iron is OK.
Free shipping & Returns

100% Satisfaction Guarantee

Enjoy 30 days to ensure you love your jeans. We'll even pay for return shipping.

FREE SHIPPING

All orders of $150 or more will receive free ground shipping (US Only).
Size Guide
×
Women's Bia Goddess Jeans
| Size | Waist (Inches) | Hip (Inches) | Inseam (Inches) |
| --- | --- | --- | --- |
| 0 | 24.5 | 35.5 | 27 |
| 2 | 26 | 36.5 | 27.5 |
| 4 | 27.5 | 37.5 | 28.25 |
| 6 | 29 | 38.5 | 28.75 |
| 8 | 30.5 | 39.5 | 29 |
| 10 | 32.5 | 41 | 29.5 |
| 12 | 34 | 42.5 | 30 |
Please Measure your body per these measurements
*all sizing is in inches
WAIST
Hold the measuring tape parallel to the floor. Circle it around the smallest part of your waist all the way around.
HIP
Hold the measuring tape parallel to the floor. Circle it around the widest part of the hips, crossing behind the back.
INSEAM
From crotch to the hem on the inside seam of the leg.



×
100% Satisfaction Guarantee
Your NBT order has a 30 day satisfaction guarantee. If you decide they're not up to the job just send them back and we'll give you a full refund. We'll even pay for your return shipping.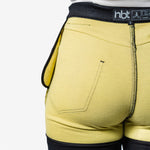 WHY SHOULD I BUY ARAMID LINED MOTOWEAR? IT'S SIMPLE.
Our Aramid lined motorcycle clothing offers the perfect combination or durability and comfort, providing riders with superior protection against abrasion and impact while making them comfortable on and off the bike.
Comfortable: Constructed with materials that are lightweight and flexible, making them comfortable and easy to wear.
Abrasion Resistant: Aramid is designed to resist tearing and wearing down, protecting you against road rash in the event of an accident.
Breathable: Aramid promotes airflow and prevents overheating, enhancing rider comfort while still protecting against abrasion.
Long Lasting: Reinforced stitching and premium 11oz denim built to withstand withstand wear and tear offering you reliable protection for years to come.
Perfect Fit: Our virtual fit technology uses millions of data sets to ensure you find the size right for you.
I ABSOLUTELY love these! They are true to size. I have 6 different types of riding pants (4 are jeans) and these are my favorite. I'm 148 and 5ft, typically a size 10 and I got a size 10.
Just Wow!
These pants are amazing! They are so soft and stretchy and so flattering. Both the hip and knee armor is unobtrusive and stays in place and the pants look great with or without it. No frumpiness at all. I normally wear a 4 and that's what I ordered so I'd say they fit true to size. I've got a pretty straight build from waist to hips and while there's room for some more curves, they still work great with a straight build. The length was well thought out too as it will work well for a variety of heights. I'm 5'4 and while it could be a bit shorter for me personally, it's definitely not too long and a taller person should be fine with it too. Waist is high enough that the back of my jacket covers it perfectly. And... they are super comfortable to ride in! Overall, well designed and executed! These are now my favorites to ride!
FINALLY!
Third time is the charm! This is the third pair of riding pants that I have tried and I am so excited! I love that the are comfortable, well-fitting, and move with my body. I can actually sit on my bike comfortably with these - crazy how that's a big win here!
Thank you so much for making an abrasion resistant pair of pants for women that are actually made for our bodies and allow us to ride in safety, comfortably.
If more colors become available, I'm absolutely buying another pair!
BEST WOMENS JEANS
Bought these for my backpack rider! She wears them even if we're not taking the bike out to dinner! A++++ CANT WAIT FOR MORE COLOR OPTIONS 🙌
I was a bit skeptical.. at first
So I am a solid curvy size 14-16 so I was a bit hesitant to order these since the largest size was a 12. I was pleasantly surprised when I put these on and how great they fit overall throughout the leg. The stretch is awesome and I was able to button them up except for the top button. But I just got back from vacation so I know in a few weeks I'll be able to close that button. Love the look, although again, I wasn't too sure about the glittery look. They look and feel great and the shine isn't too much. Can't wait to see more color options come out. I loved the men's pants but I am definitely more of a fan of the women's in how they fit. I can't wait to see what else comes out for us women riders.
100% Satisfaction Guarantee
You've got 30 days to be sure you love em', we'll even pay for return shipping. Though we promise you, you'll be hooked from your first ride.
FREE SHIPPING TO THE 48 CONTIGUOUS UNITED STATES
Comfortable motowear coming your way soon. All orders ship from our warehouse in Northern California. And no one likes to pay for shipping! Based Internationally? We'll still ship to you!
FREE WRECK REPLACEMENT
In the unfortunate event you wreck in our gear, we'll replace anything you were wearing that was damaged at no charge. We want to make sure you're fully prepared next time you ride.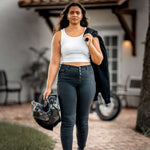 FAQs
What's my size?
We don't know! But we've found nerdy data scientists that do. On any product page simply click on the WaiR - WHAT'S MY SIZE button and follow the prompts to find your perfect fit. This technology uses datasets from millions of body scans to match your measurements to our clothing design details. Don't forget, we promise a perfect fit or your money back no questions asked for 100 days.
What is your return and exchange policy?
We know the true test of any riding gear is how it feels. That's why we offer a 100% SATISFACTION GUARANTEE. You have 30 days to be sure you love em', we'll even pay for return shipping. If you decide they're not up to the job just send them back and we'll give you a full refund. That was easy.
What is Aramid and what does it do?
Simply put Aramid is a badass material that was created by scientists who are much smarter than us. It is a high tech synthetic fiber known for its strength (5x stronger than steel) and heat resistance. Aramid is a strong, lightweight material that is commonly used in protective clothing, such as bulletproof vests and firefighter gear or in our case motowear. We use Aramid to line the majority of our products because we believe it's the most reliable material to protect you from road rash and keep you comfortable at the same time.
What does armor cost?
All NBT Armor is CE approved and included at no additional charge with your purchase. Unlike our greedy competitors (no hard feelings), we didn't feel right charging extra for the gear that keeps you safe. Protection is in our DNA and this keeps it that way. All of our gear comes with armor pockets that you can easily insert or remove when you get to where you're going. Remember, we're built for the journey & the destination.
How much is shipping?
We like to keep things simple. Shipping is FREE on all orders over $150, that's it. For orders less than $150 standard UPS ground shipping will be applied to your order at checkout.