Regular price
$214.40 USD
Regular price
$268.00 USD
Sale price
$214.40 USD
Unit price
per
Sale
Sold out
Guaranteed Delivery by 12/24
Size Chart
100% Satisfaction Guarantee
The Nomad Shirt Jacket is a light-weight jacket that packs a heavy duty punch with reinforced aramid lining made from our revolutionary TensileTough™ anti-abrasion material throughout the ENTIRE jacket.  Includes FREE CE removable armor in the elbow, shoulder, and back area.  Engineered with a polyester mesh interior it can be worn as a shell or layered for additional warmth. Meticulously crafted with premium fabric blends and features including matte black buttons, adjustable wrist cuffs to control air flow, and a snap button collar for a stylish appearance. 

Fully reinforced with ARAMID - 5x STRONGER THAN STEEL - the same fiber that stops bullets, tethers space shuttles and armors helicopters, we've created gear that belongs in a Bond movie.
Features:
100% reinforced with our TensileTough aramid lining

CE armor in elbows, shoulders, and back included FREE
Snap button collar
Adjustable wrist snaps for controlled air flow

Polyester mesh interior lining for extra breathability 
Free Shipping & Returns

100% SATISFACTION GUARANTEE

We know the true test of any riding gear is how it feels. That's why we offer a 100% SATISFACTION GUARANTEE. You have 30 days to be sure you love em', we'll even pay for return shipping. If you decide they're not up to the job just send them back and we'll give you a full refund.

FREE SHIPPING

All orders of $150 or more will receive free ground shipping (US Only).
View full details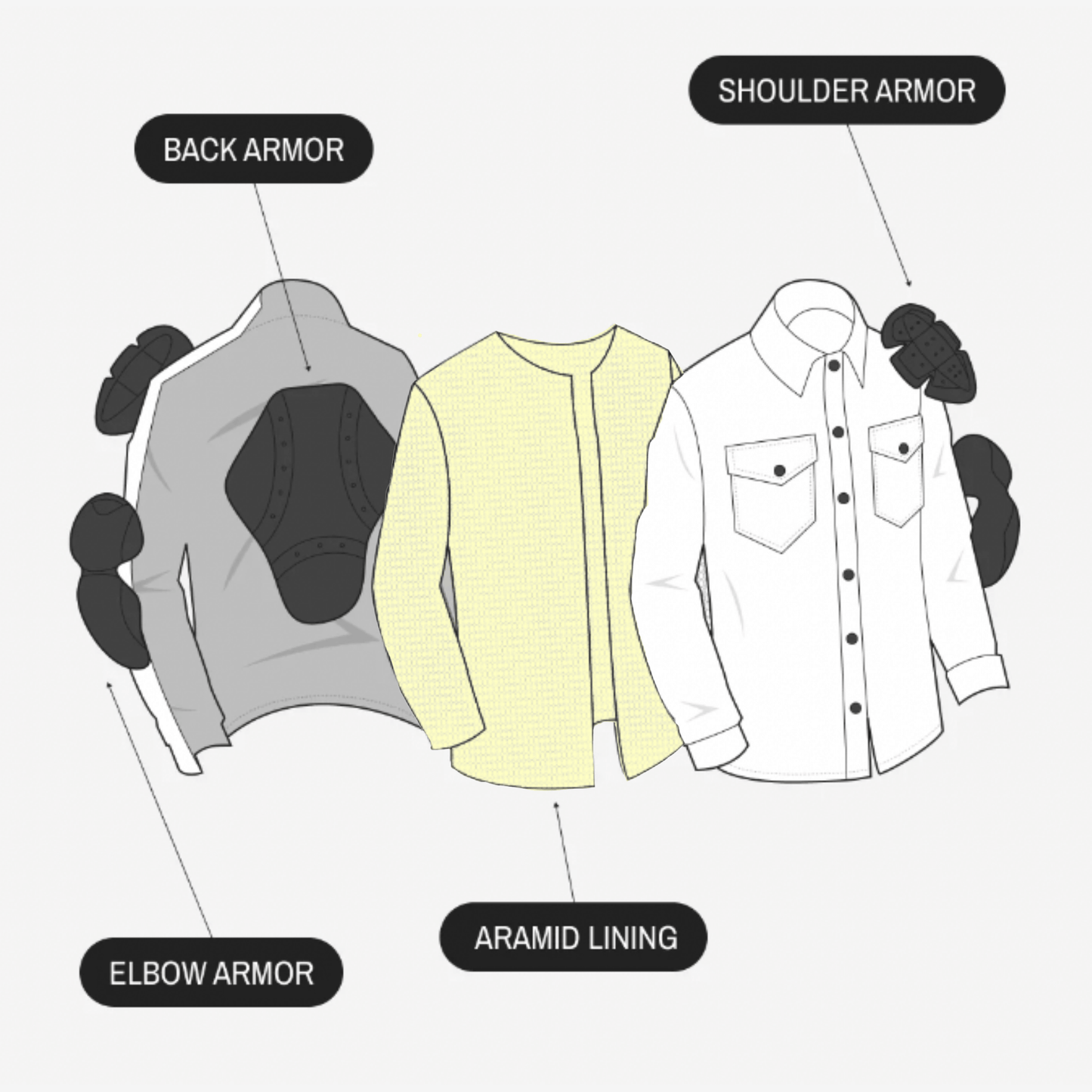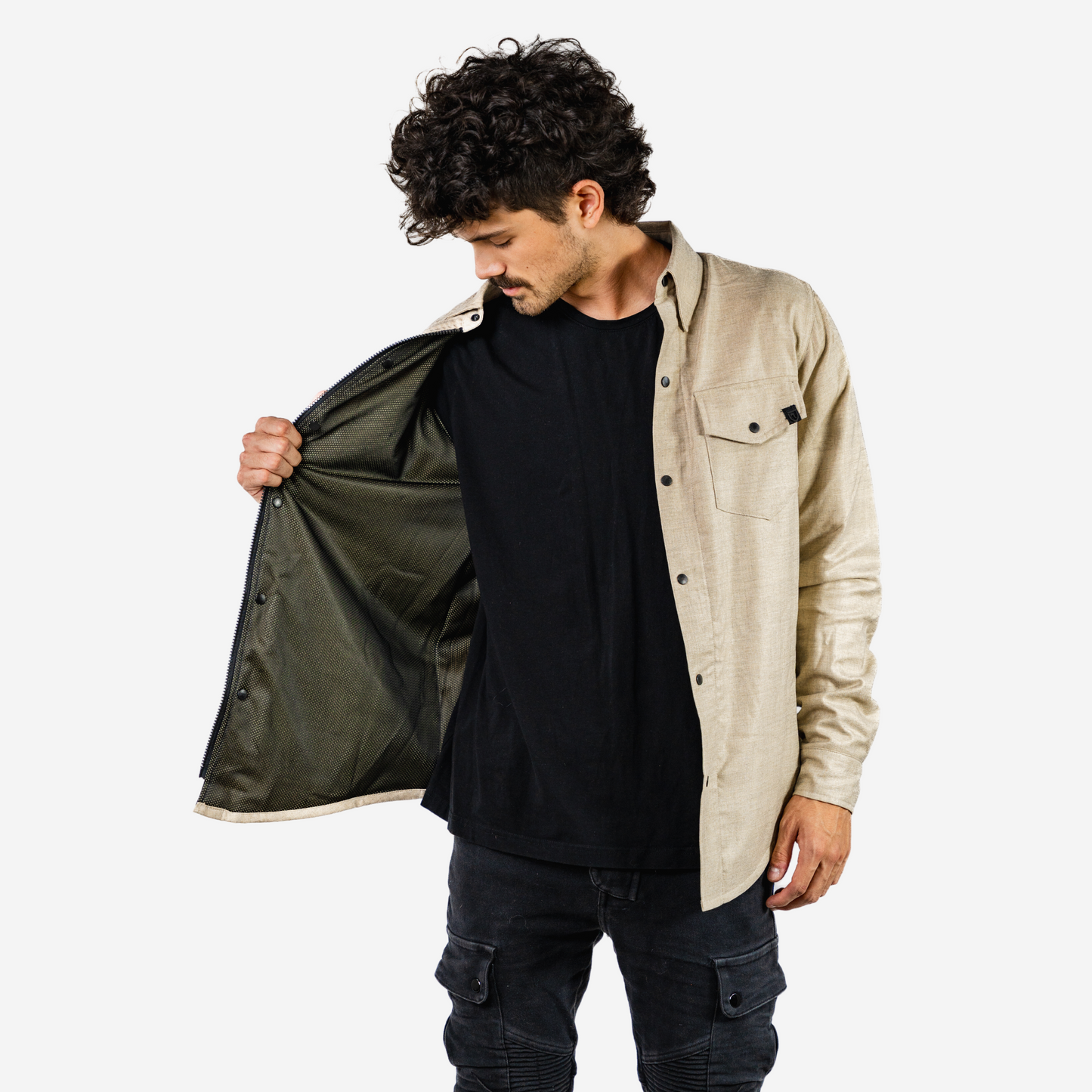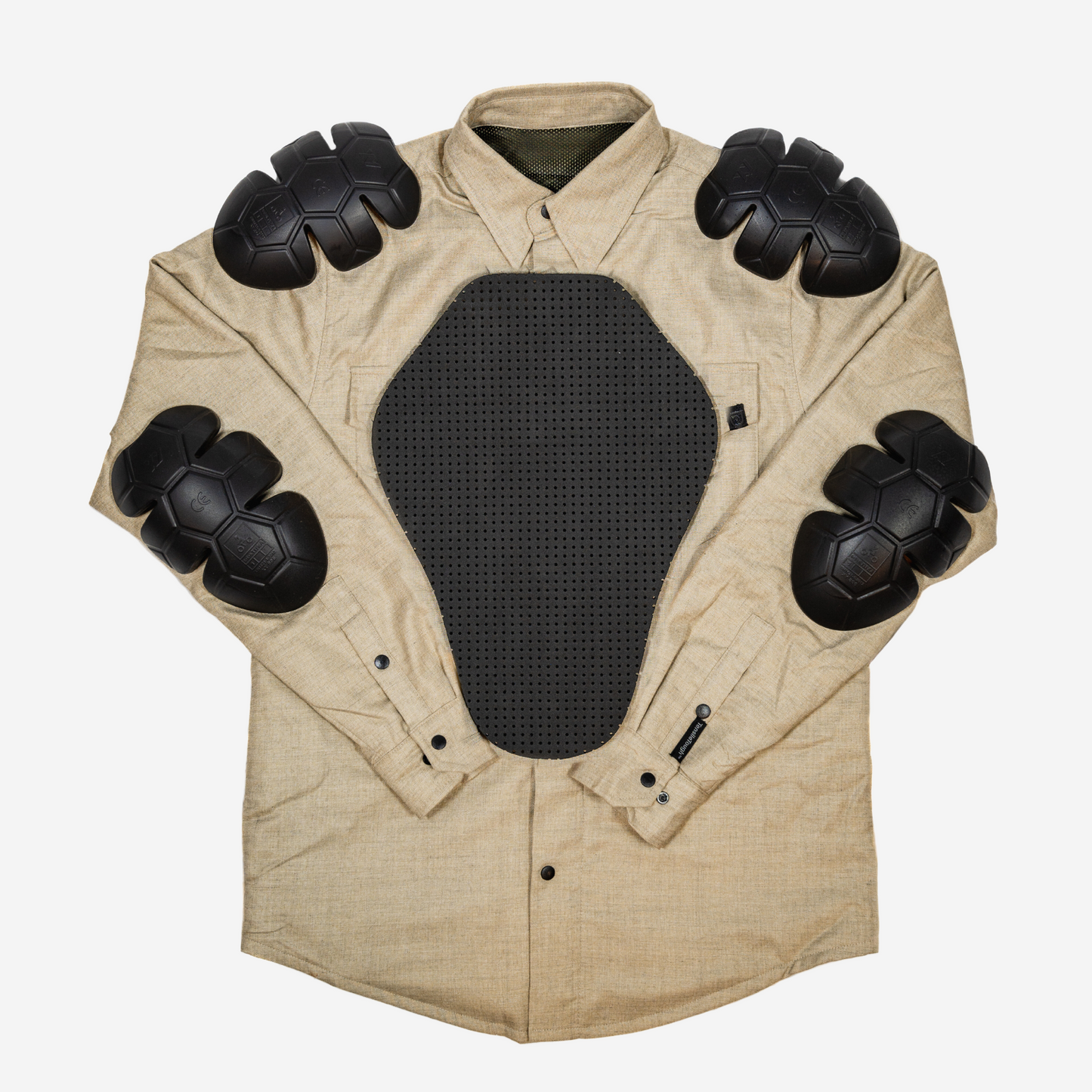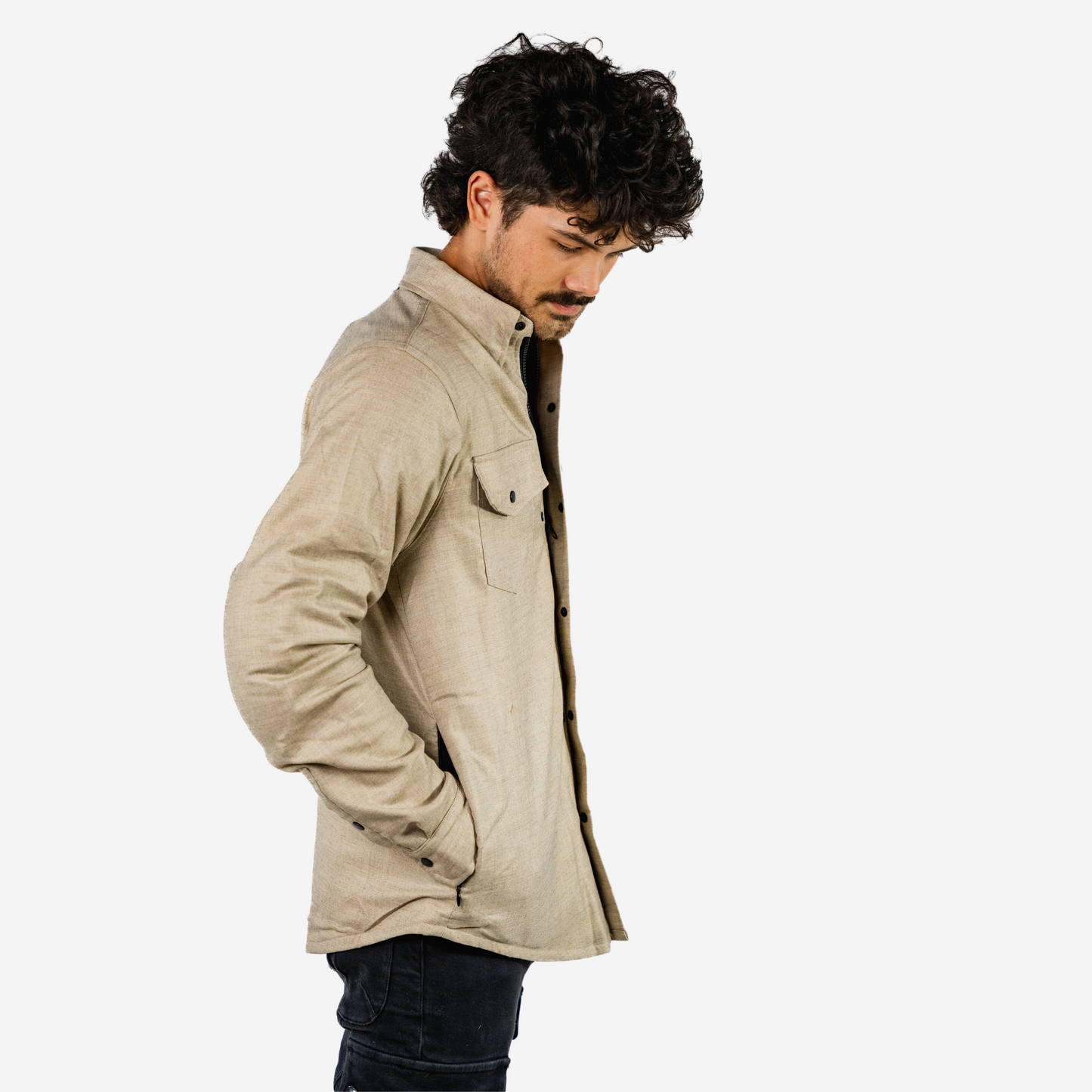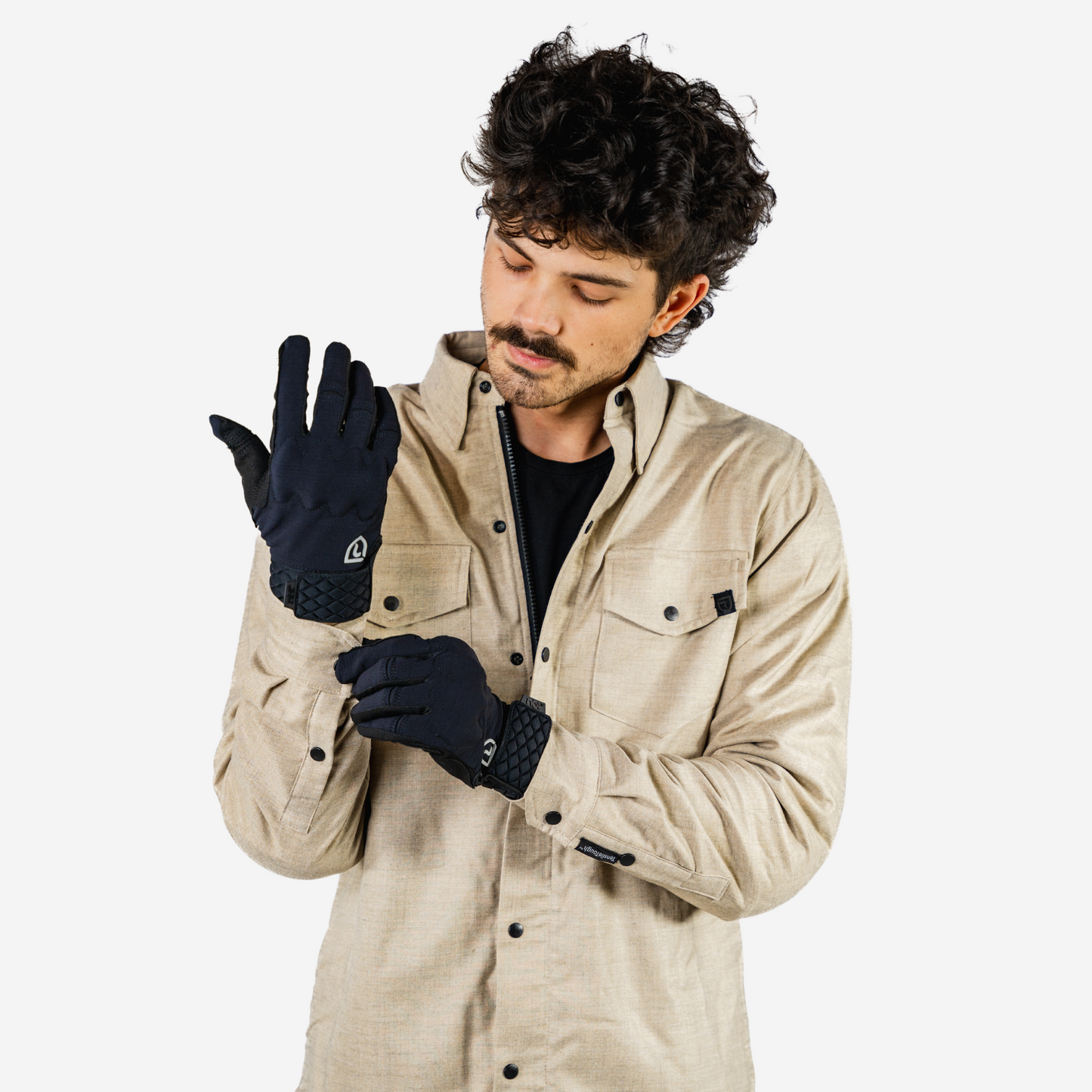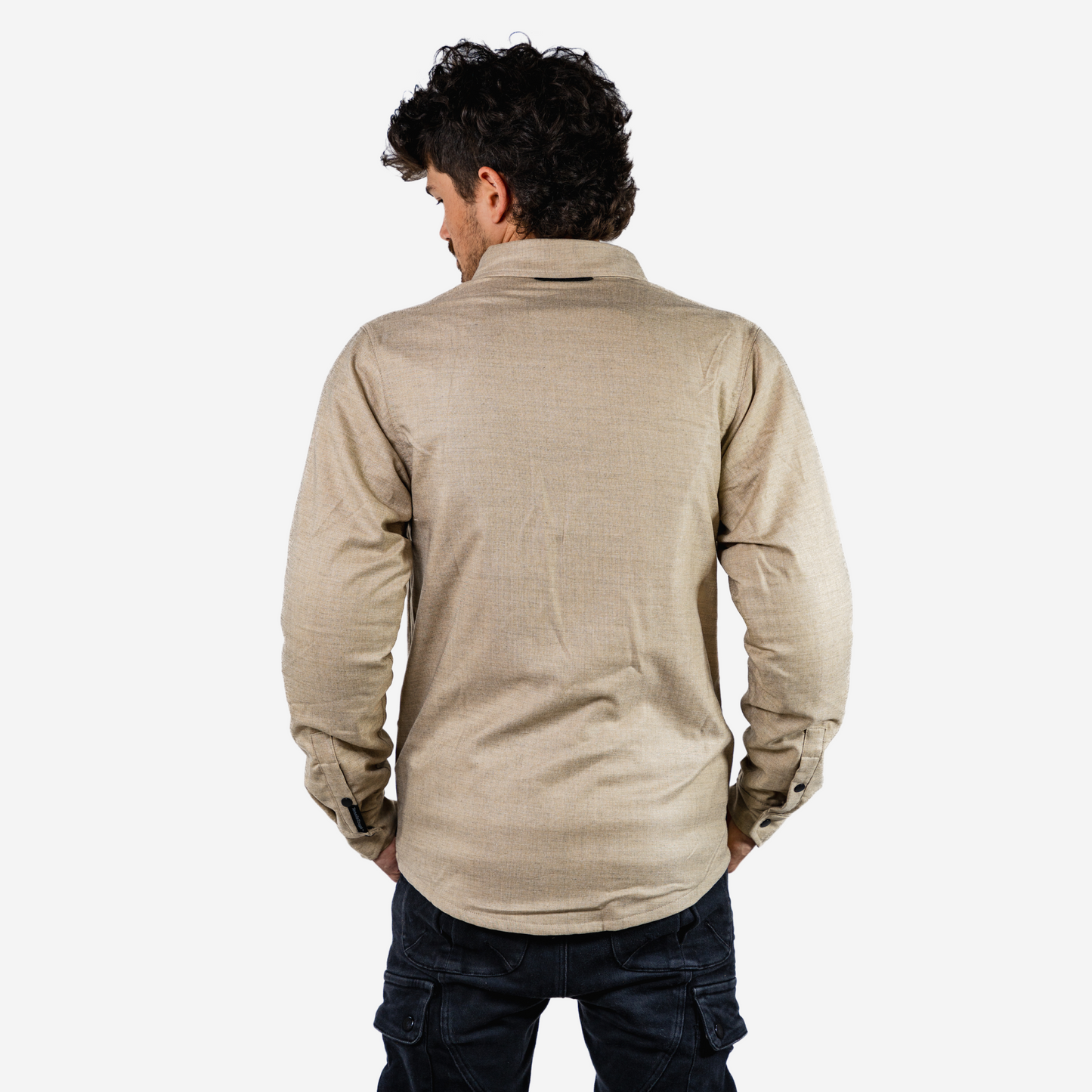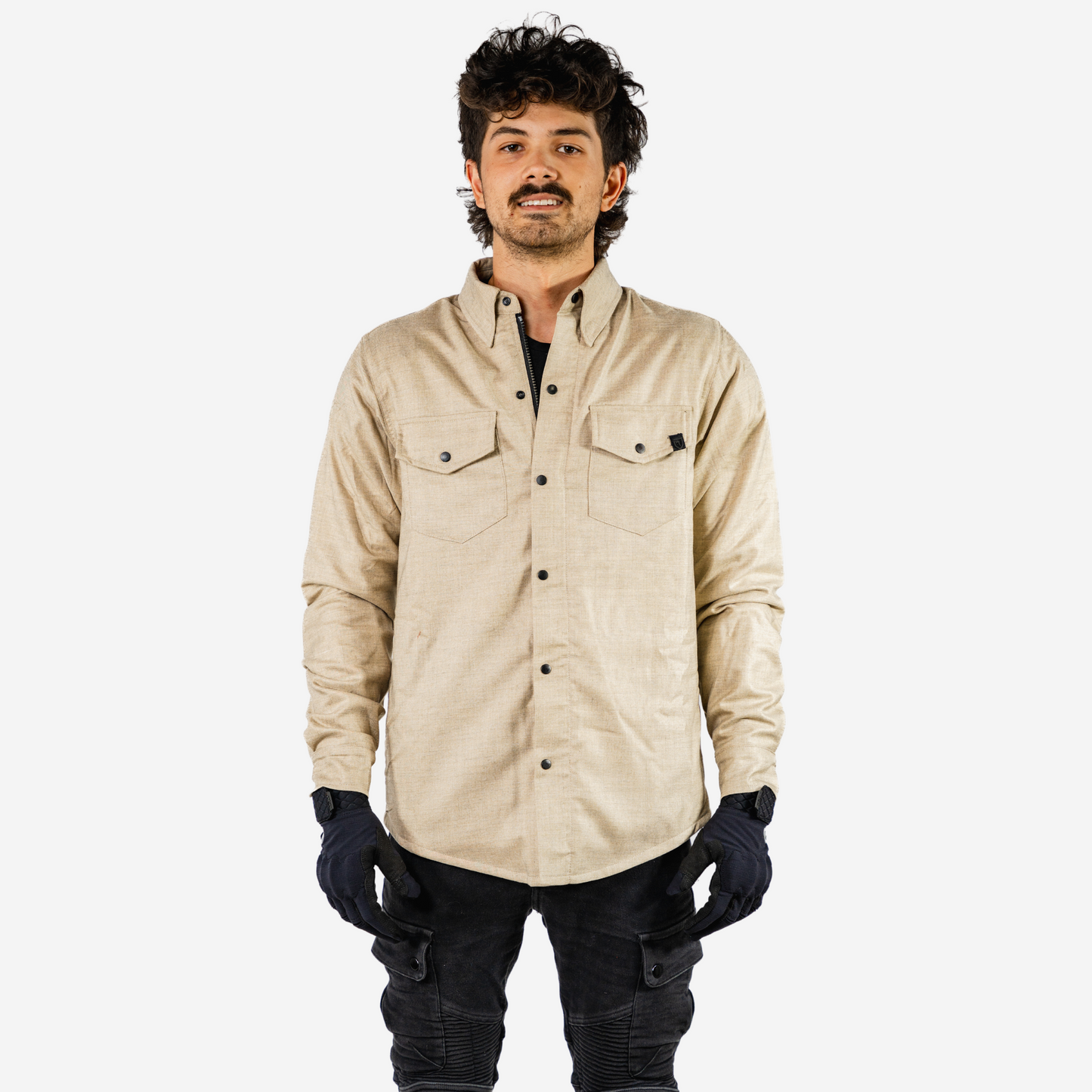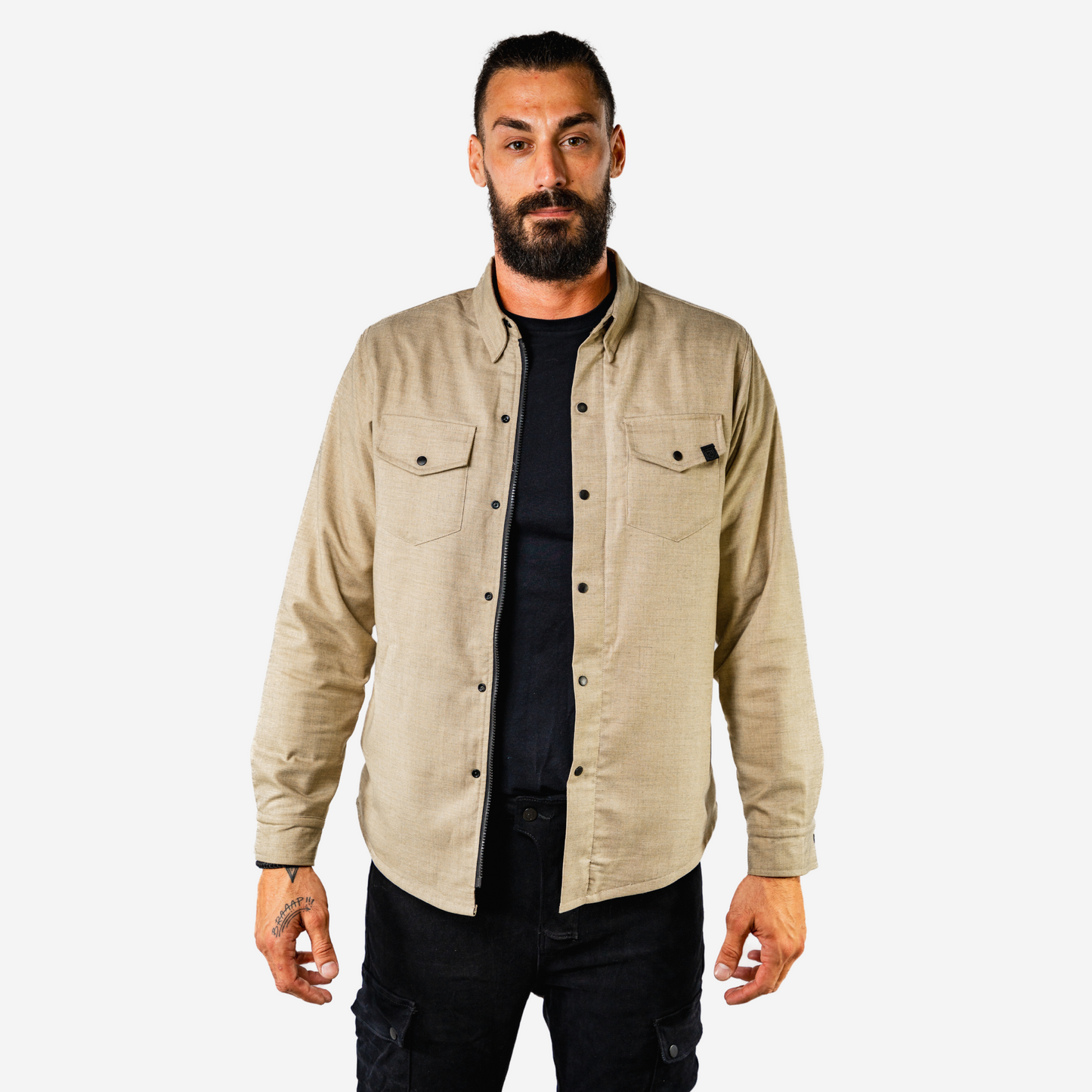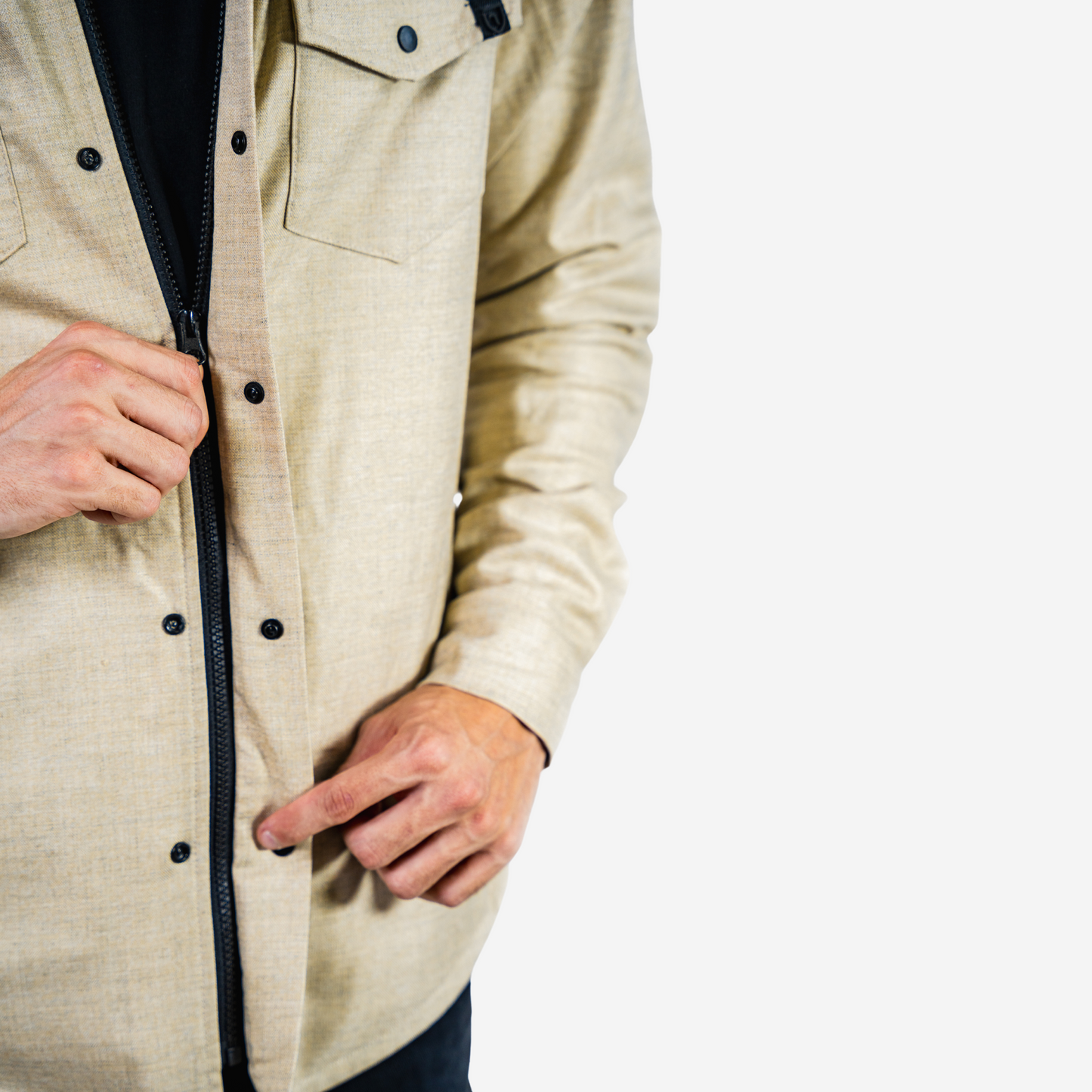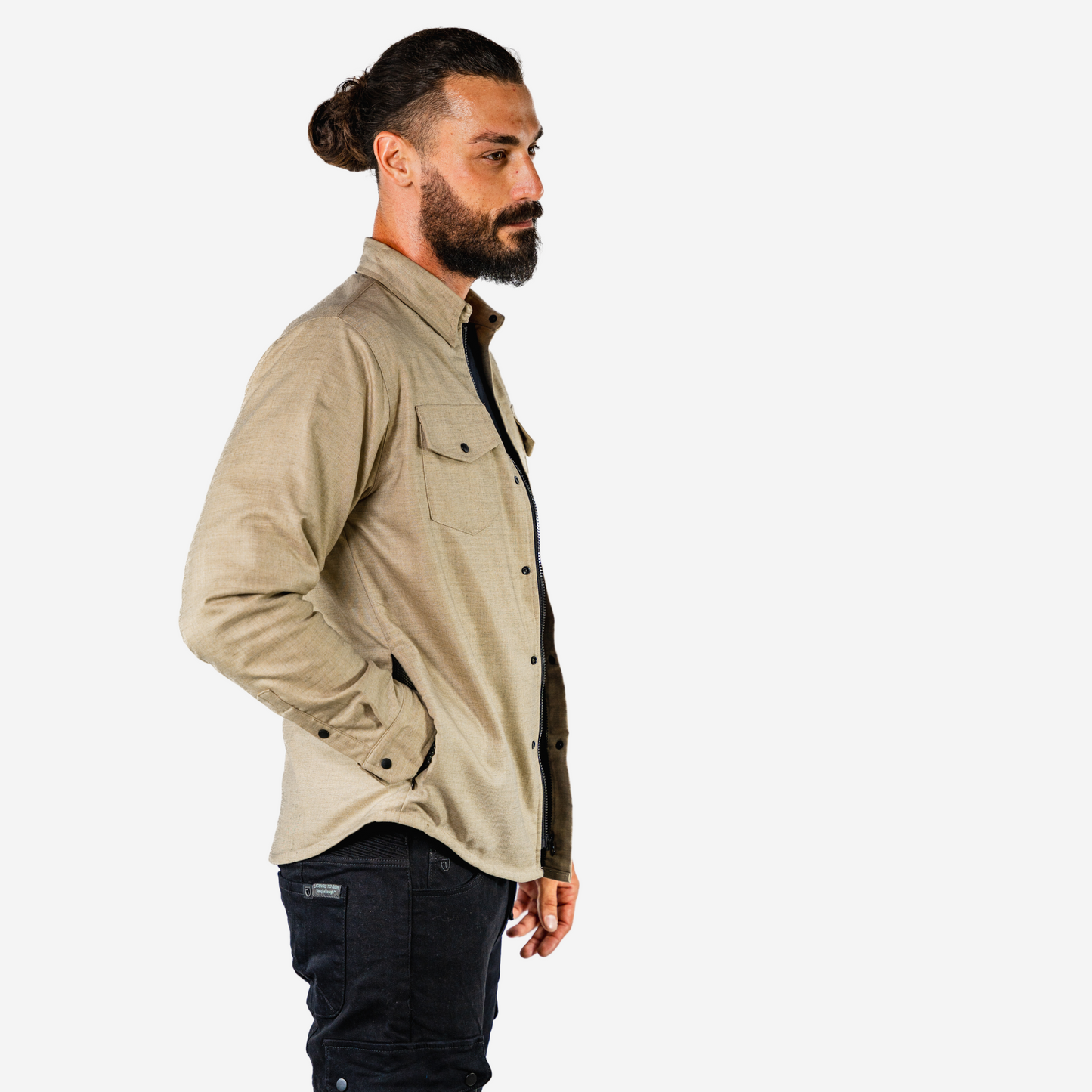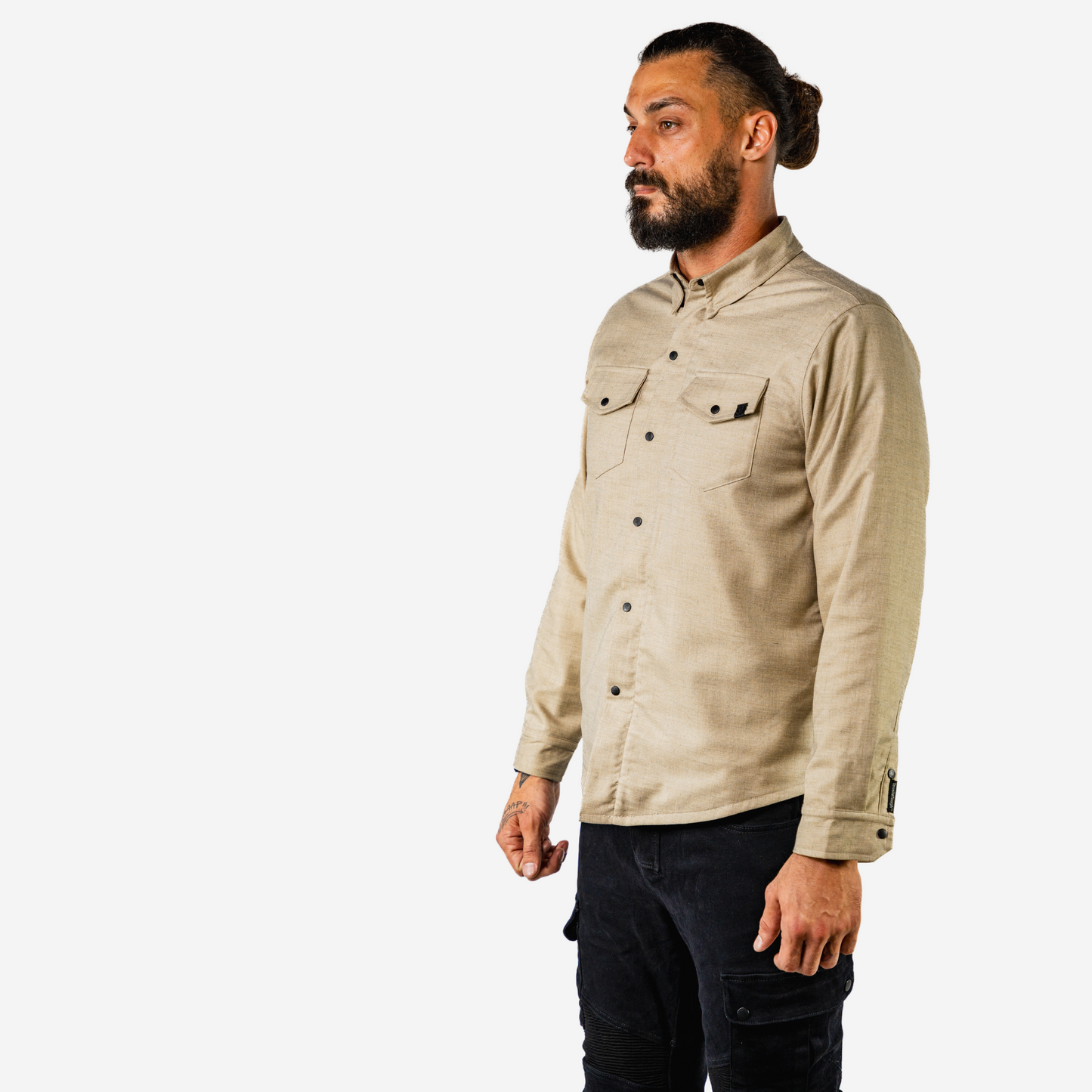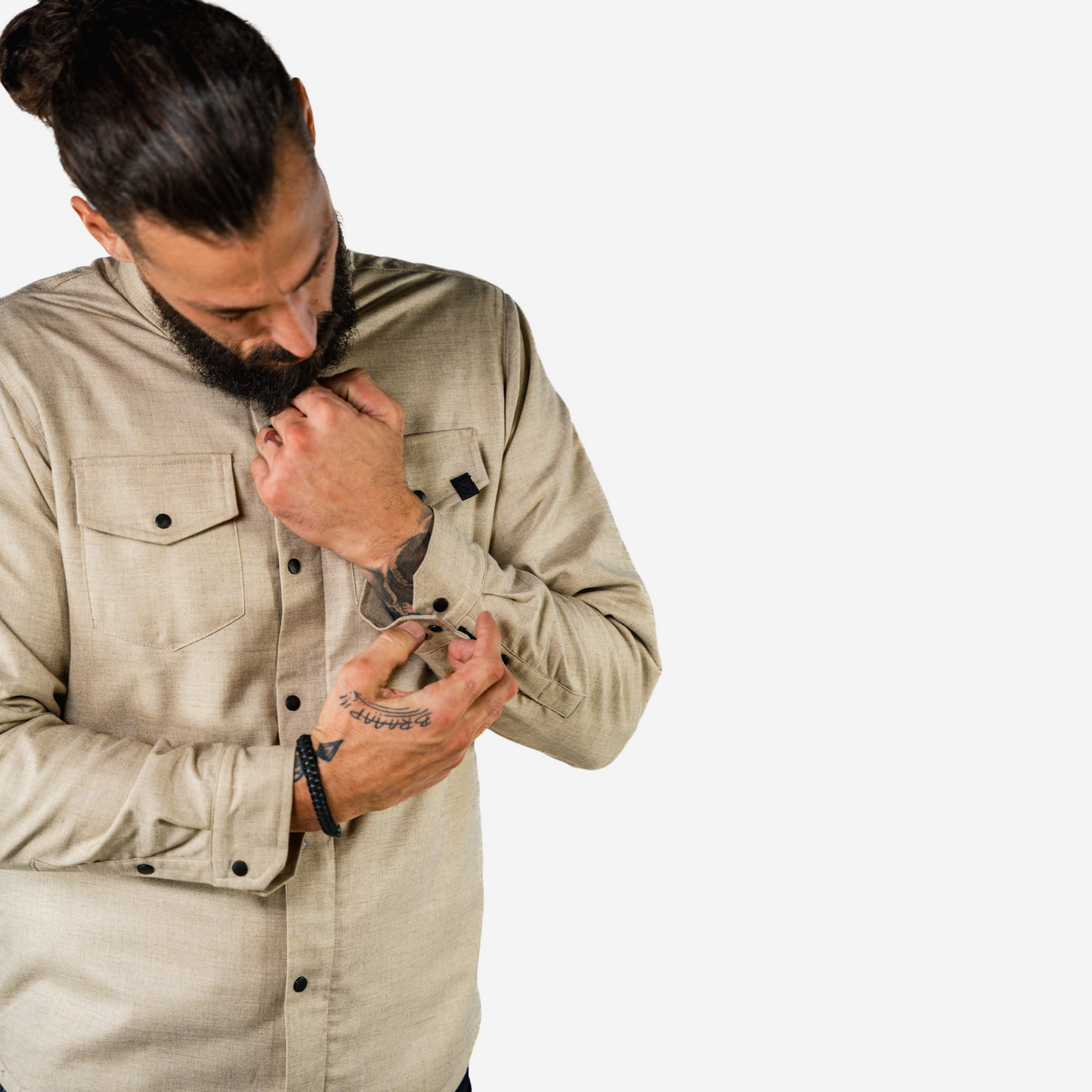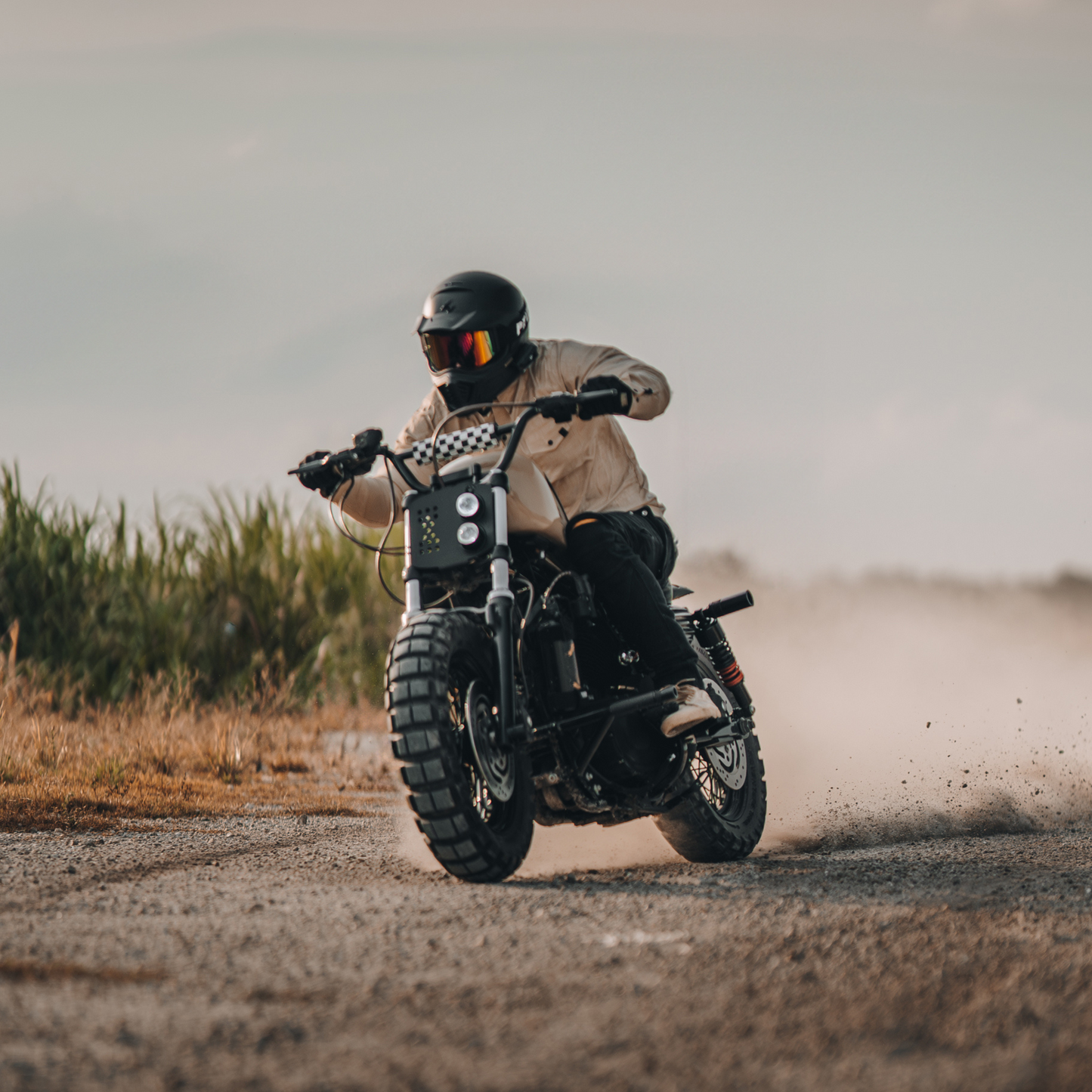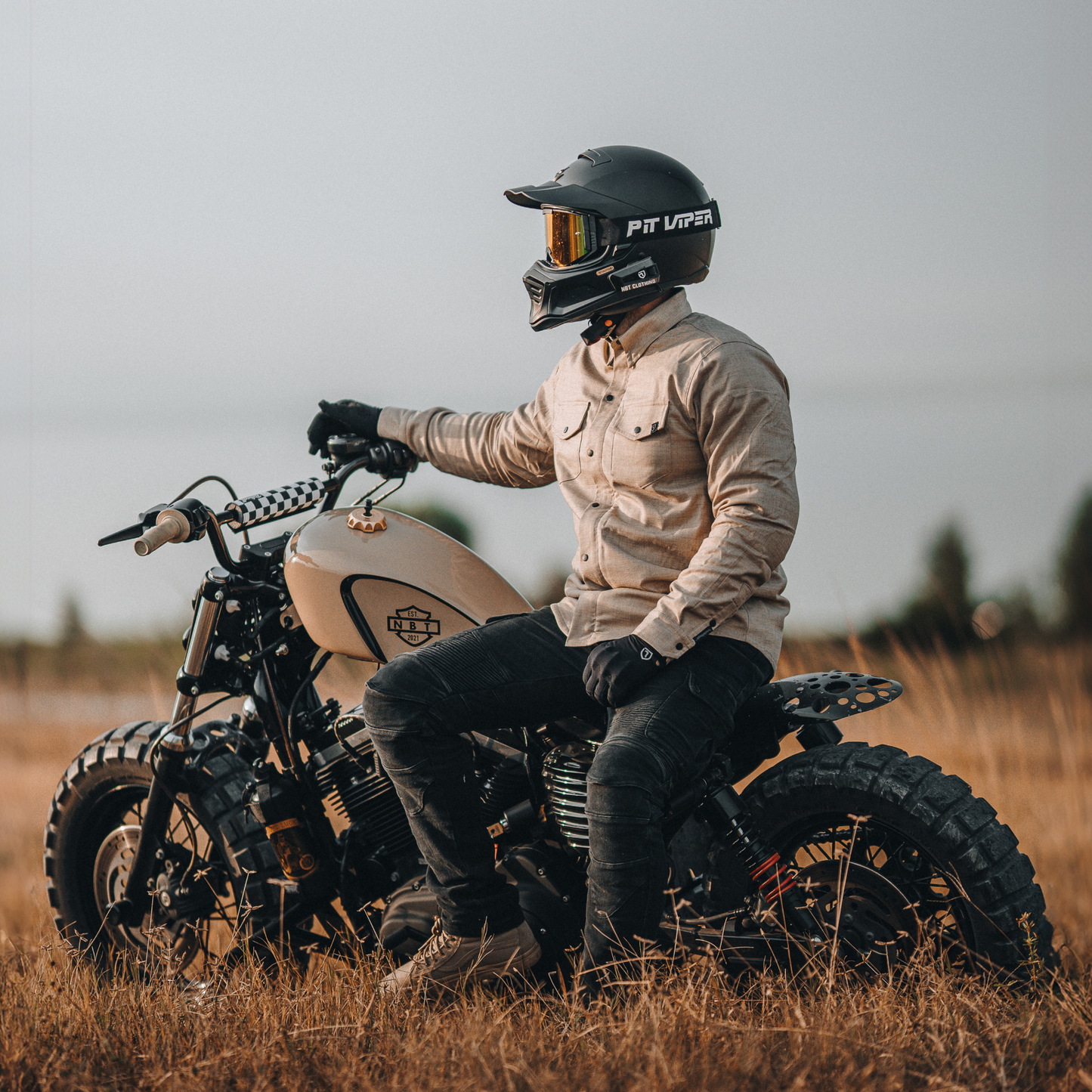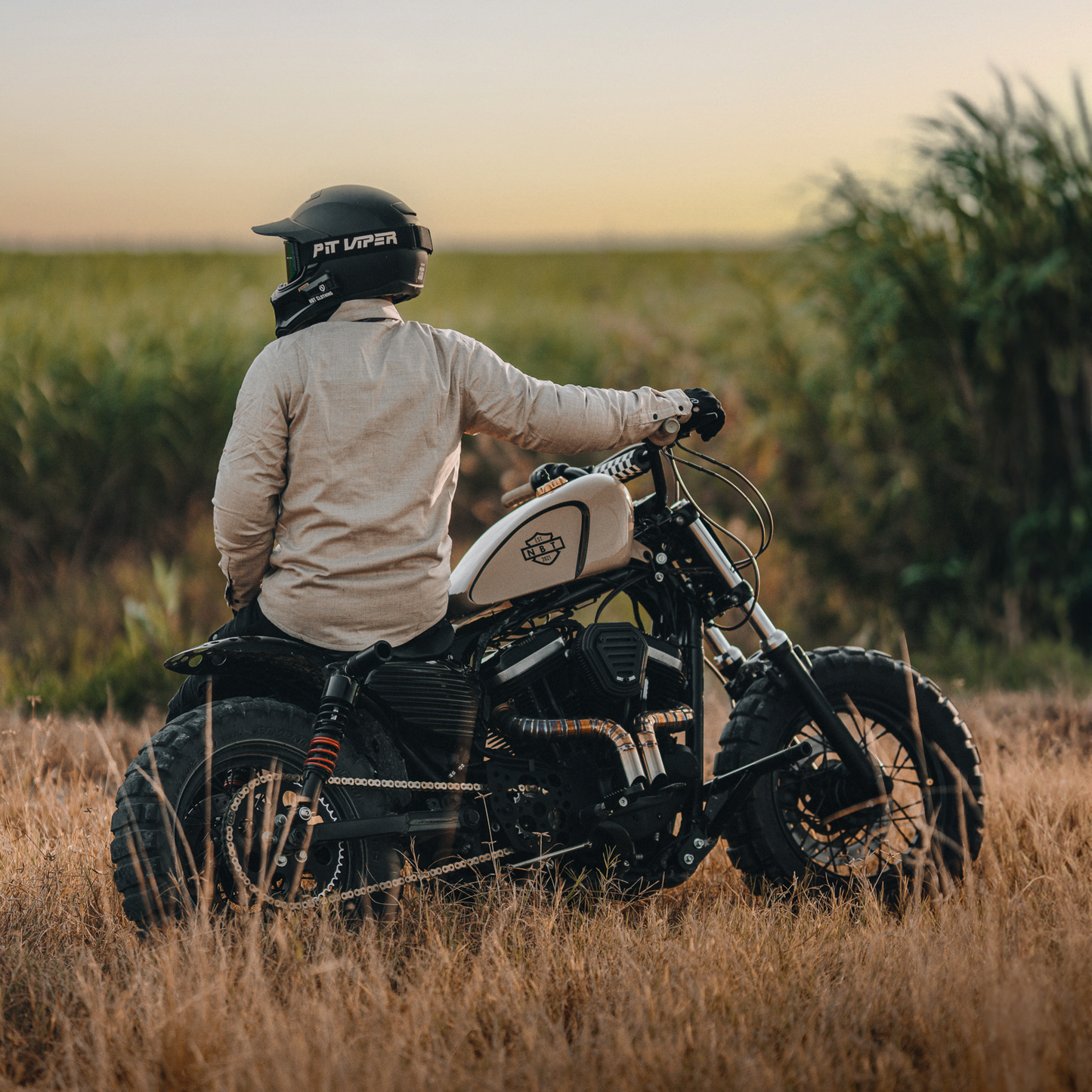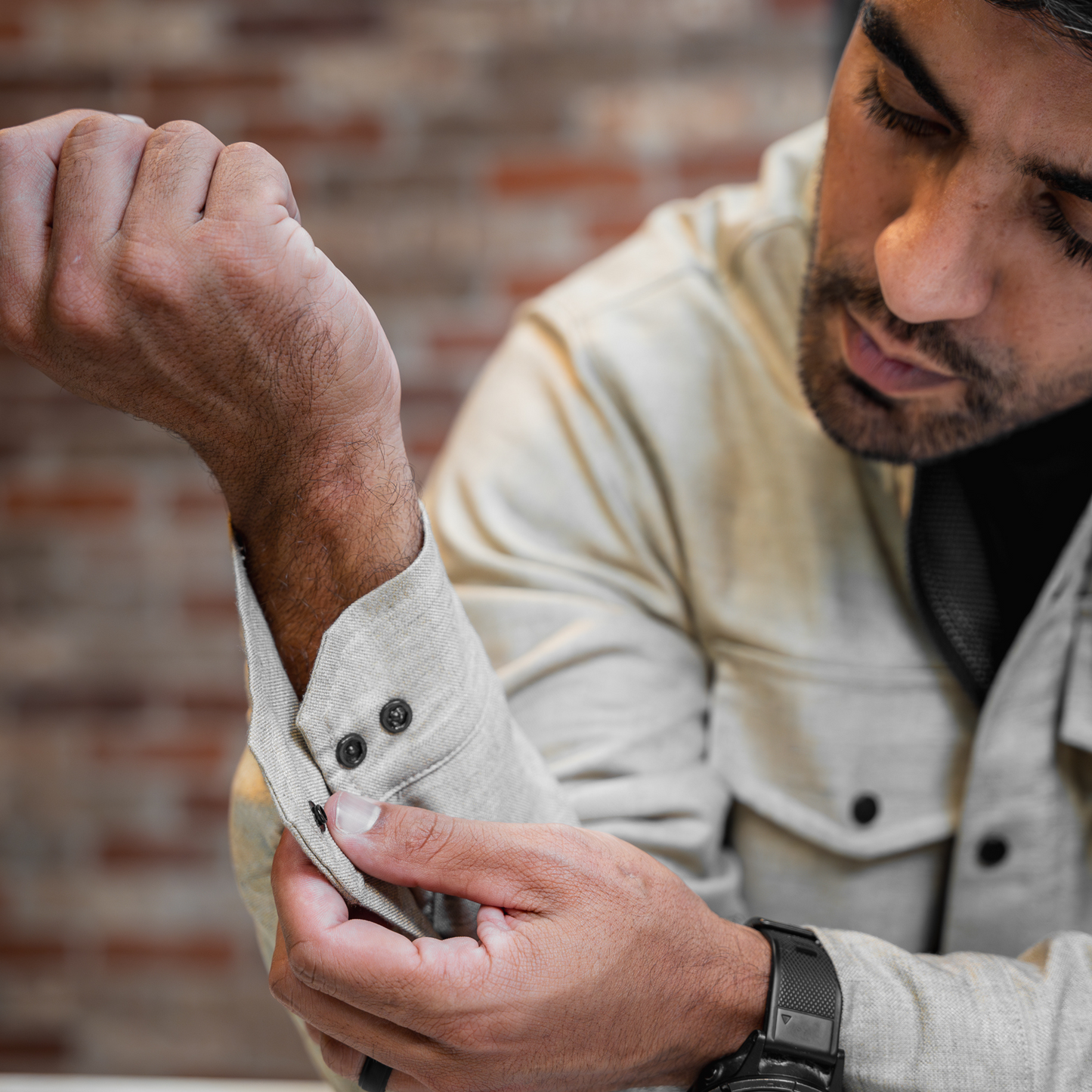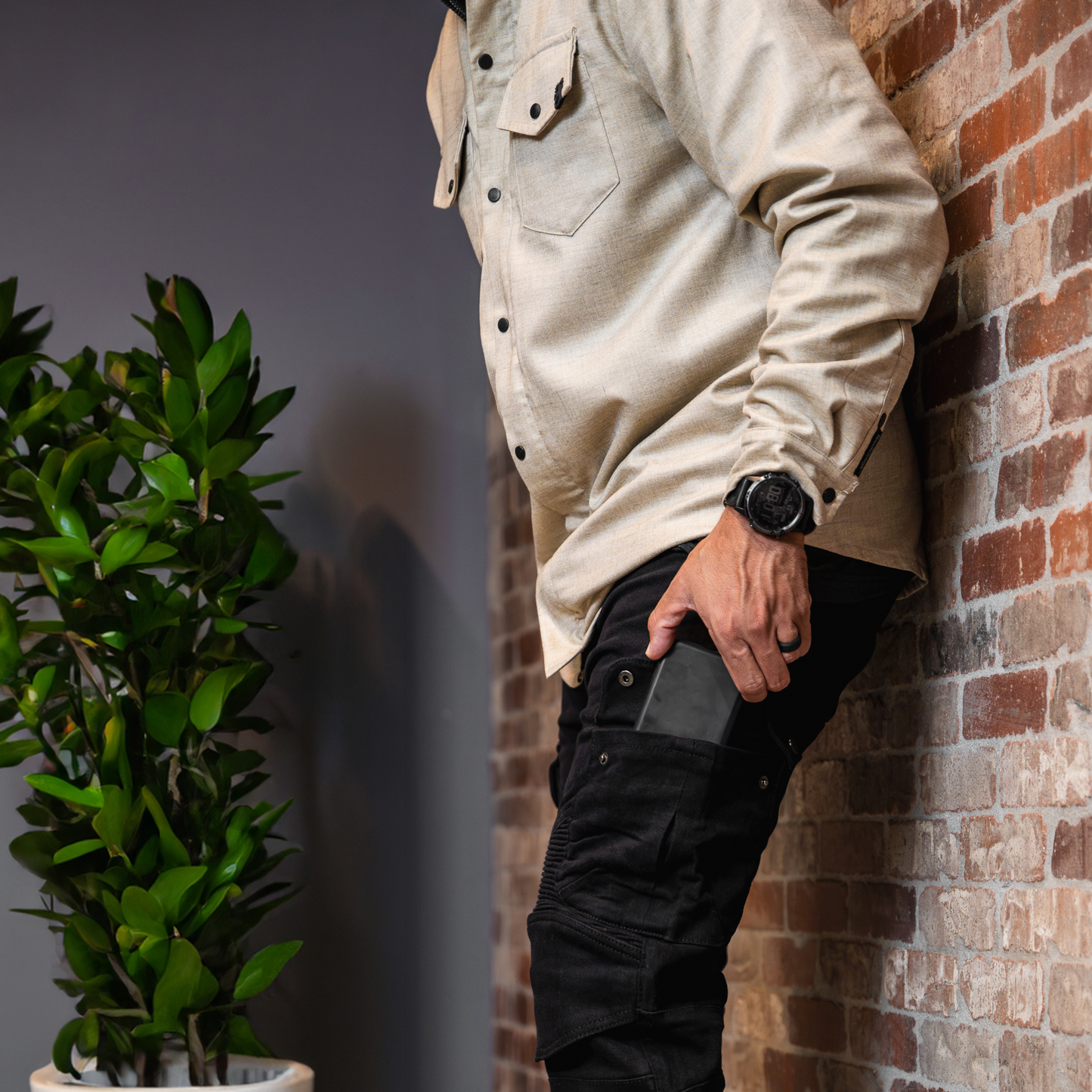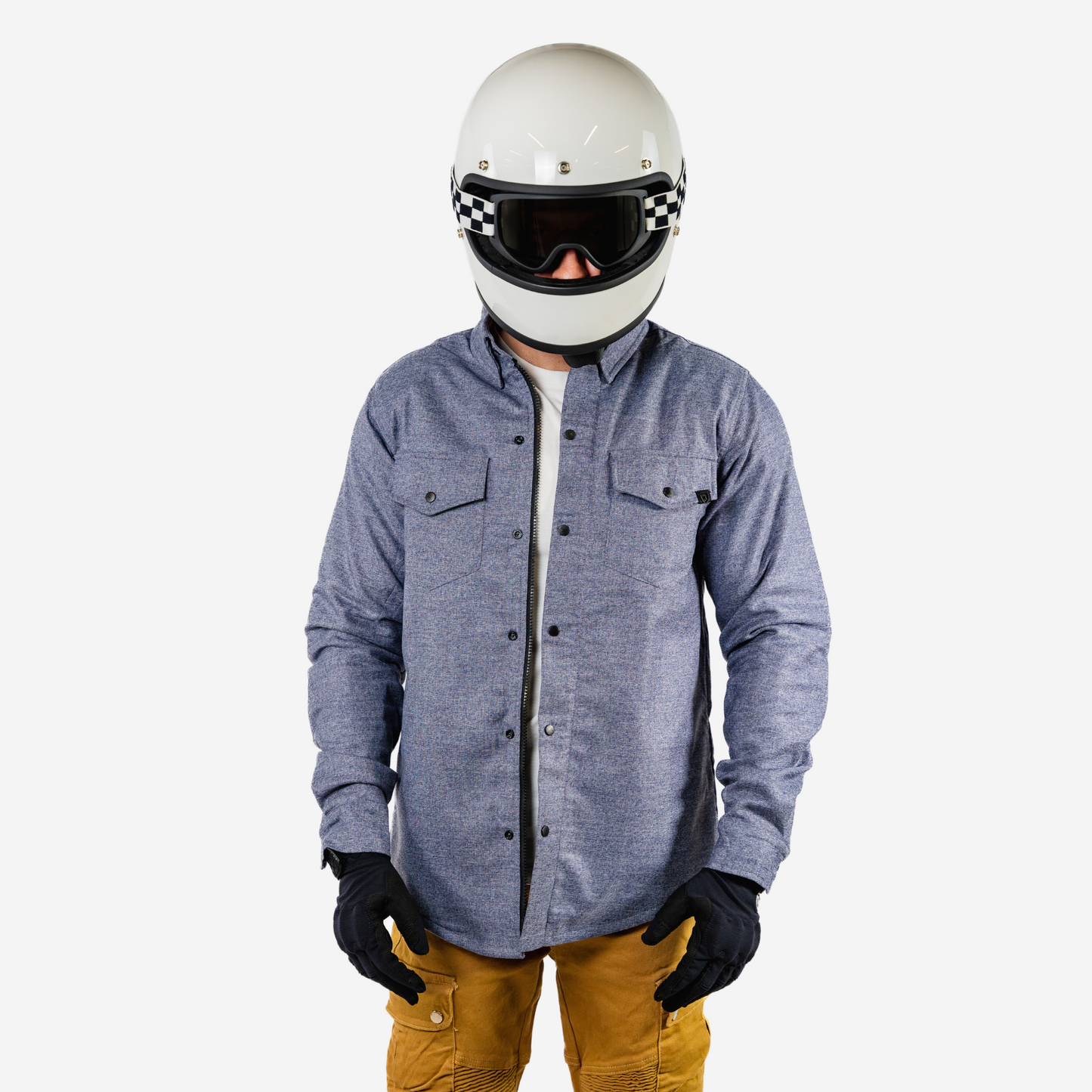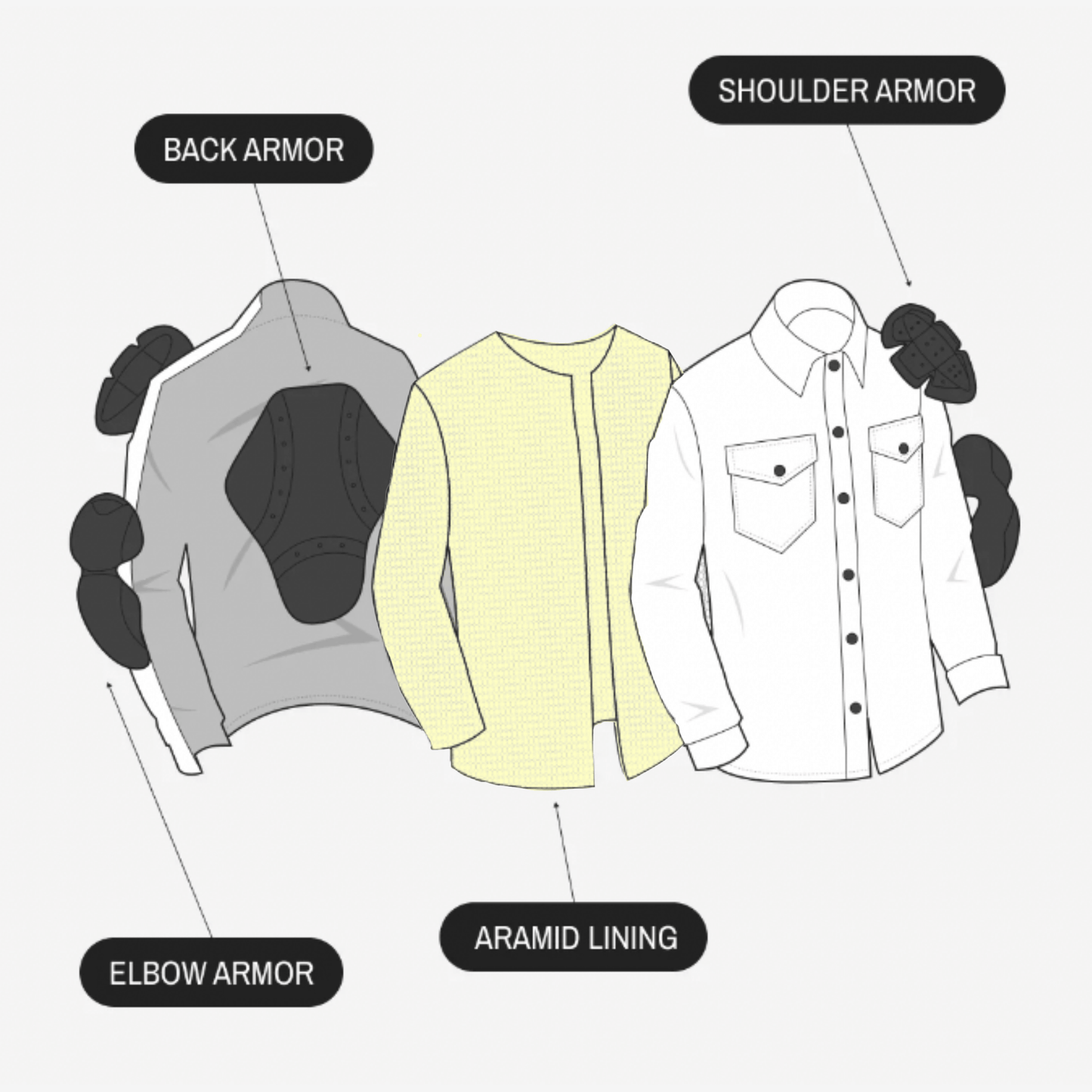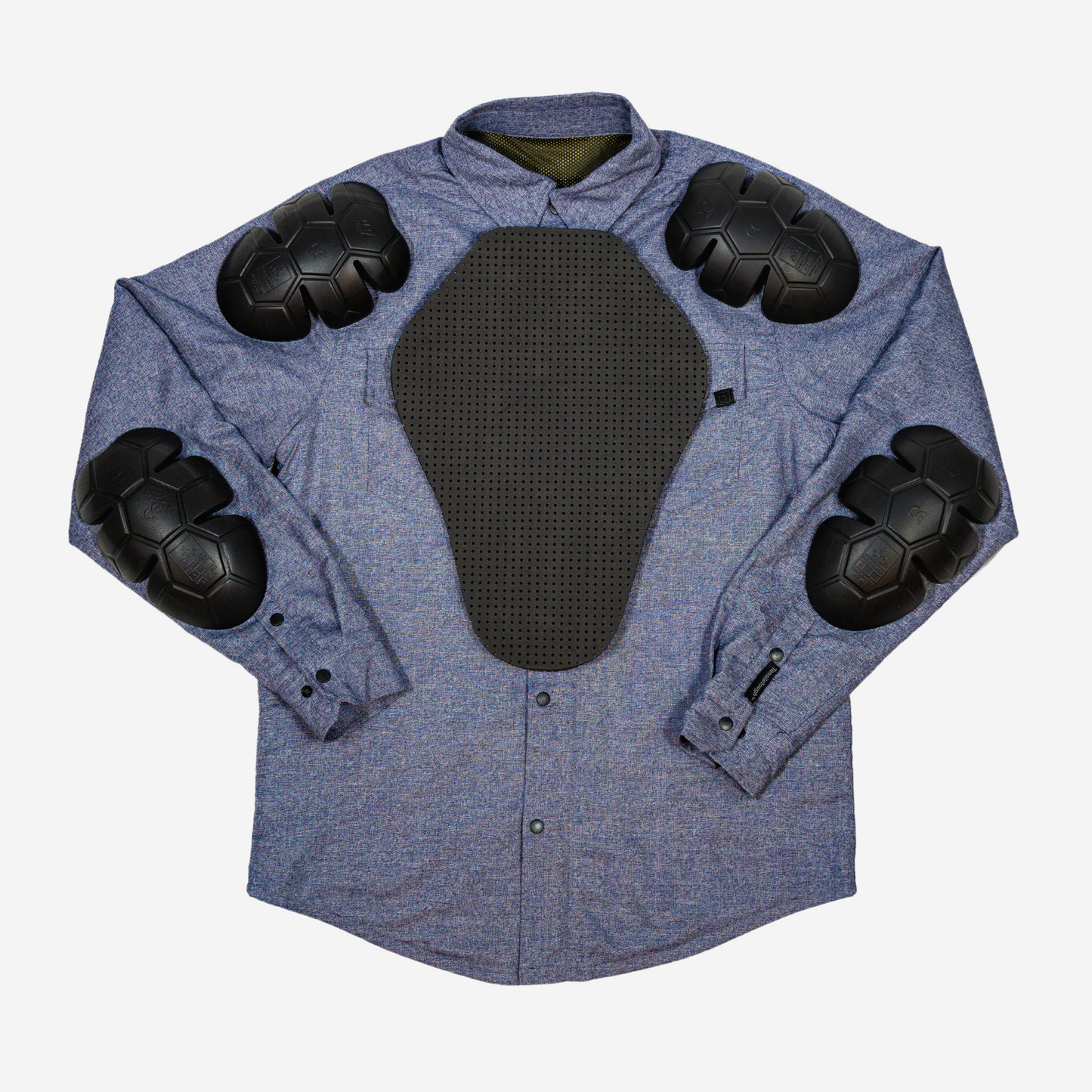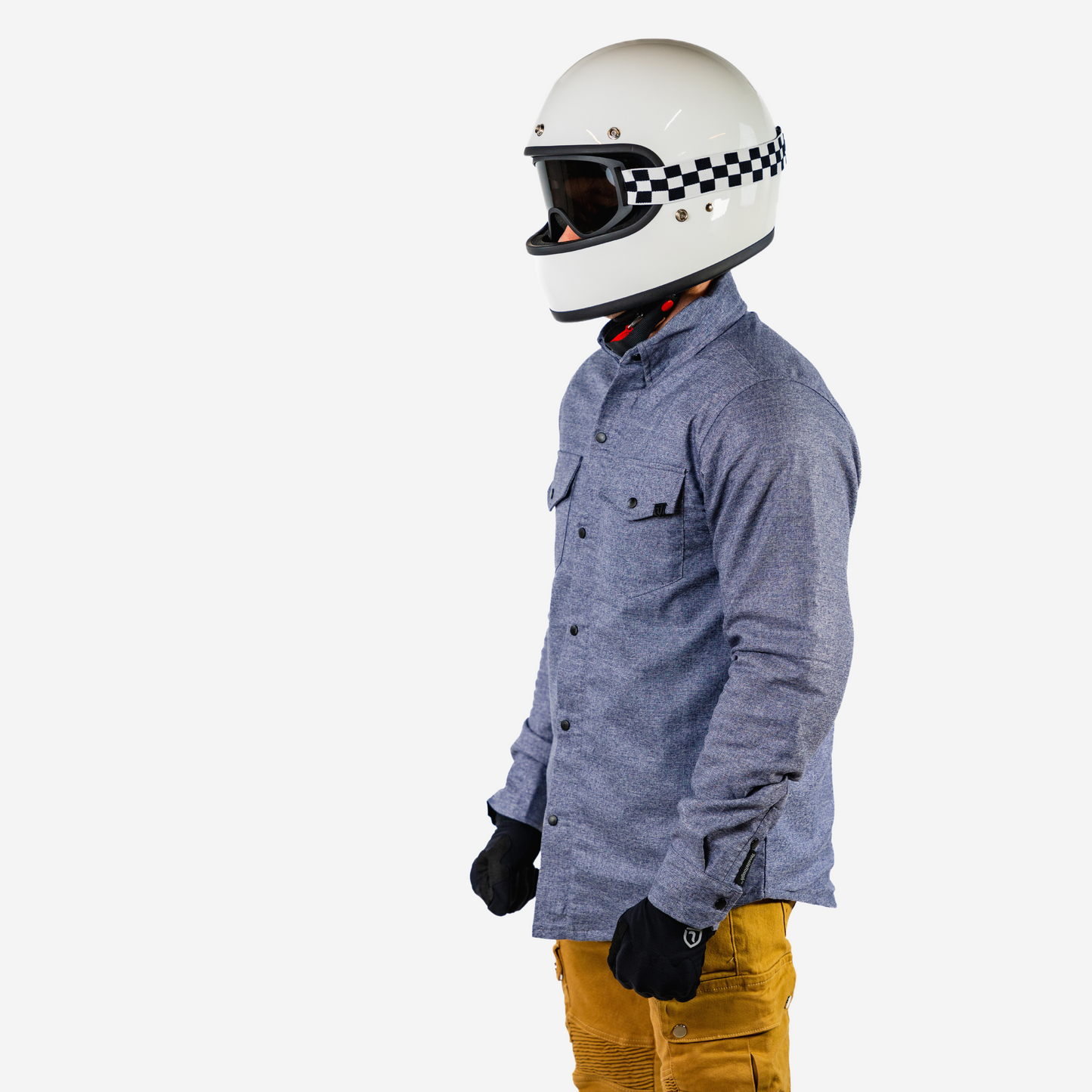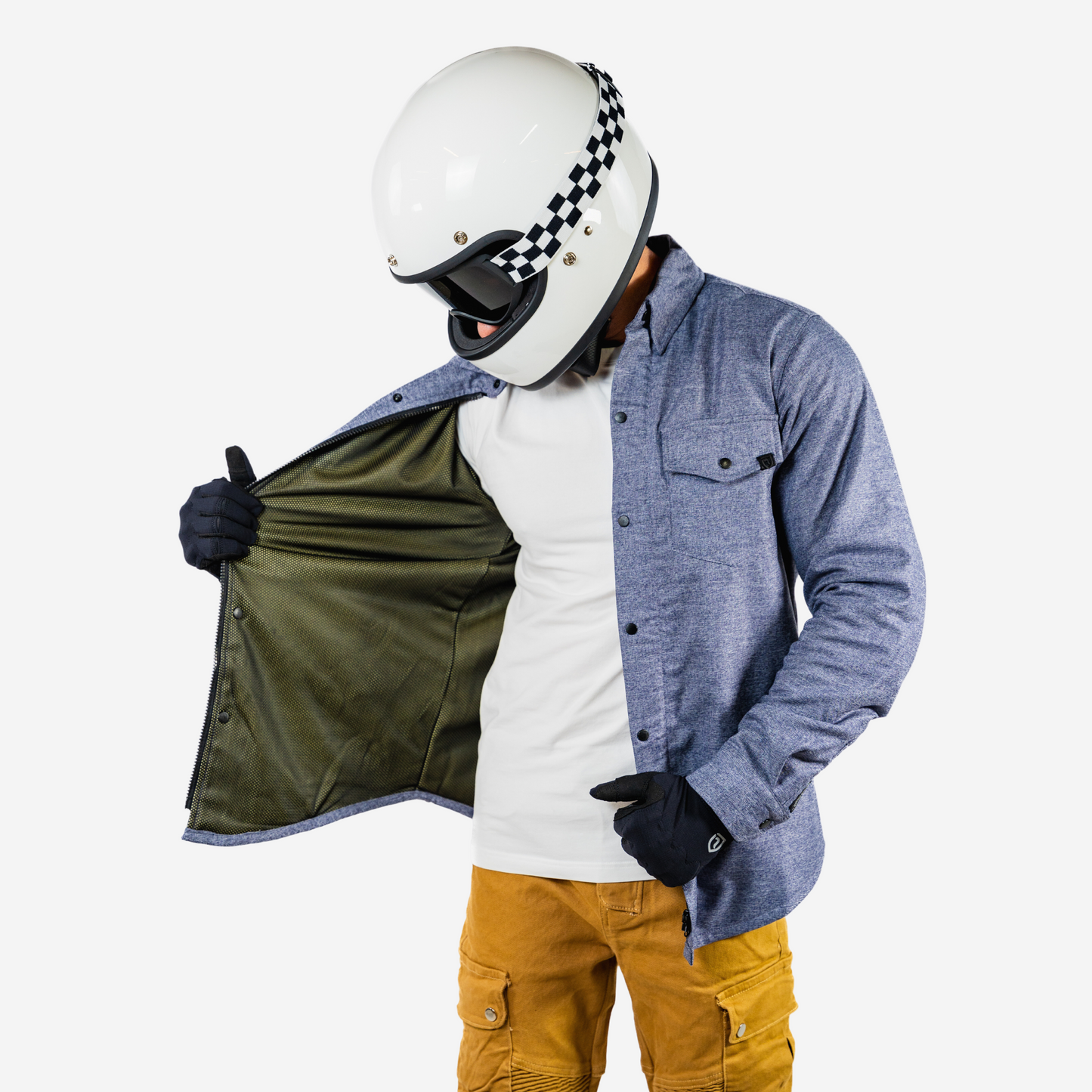 Men's Tops Size Chart
Men's SHIRTS
100% Satisfaction Guarantee
Your NBT order has a 30 day satisfaction guarantee. If you decide they're not up to the job just send them back and we'll give you a full refund. We'll even pay for your return shipping.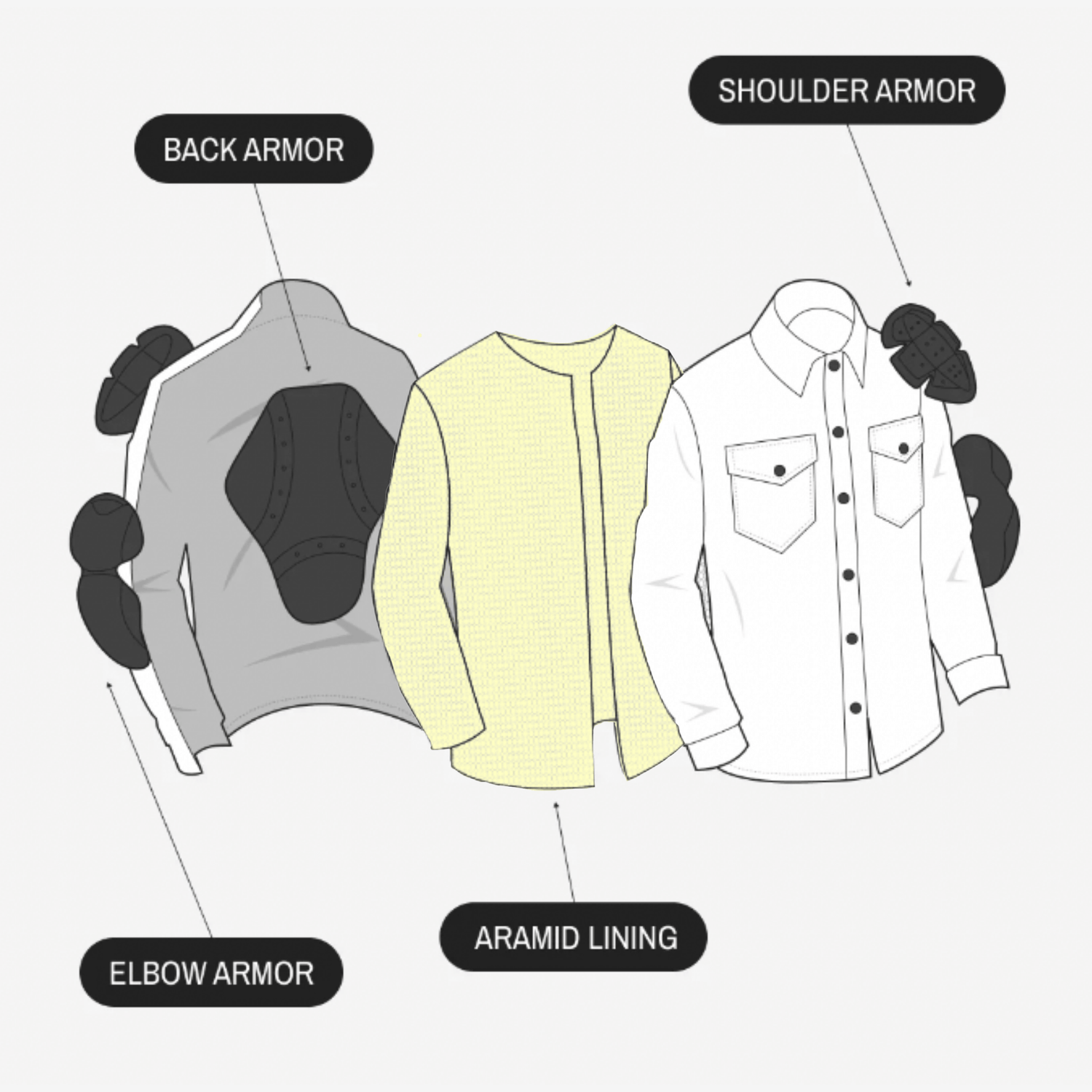 WHY SHOULD I BUY ARAMID LINED MOTOWEAR? IT'S SIMPLE.
Our Aramid lined motorcycle clothing offers the perfect combination or durability and comfort, providing riders with superior protection against abrasion and impact while making them comfortable on and off the bike.
Comfortable: Constructed with materials that are lightweight and flexible, making them comfortable and easy to wear.
Abrasion Resistant: Aramid is designed to resist tearing and wearing down, protecting you against road rash in the event of an accident.
Breathable: Aramid promotes airflow and prevents overheating, enhancing rider comfort while still protecting against abrasion.
Long Lasting: Fully lined with reinforced aramid throughout entire top built to withstand wear and tear offering you reliable protection for years to come.
Perfect Fit: Our virtual fit technology uses millions of data sets to ensure you find the size right for you.
Almost perfect
I normally wear an XL in shirts and jackets. The XL fit me perfectly. The armor is nice quality and barely noticeable. It is a good looking garment and seems to be very well made. The only thing that I don't like about it, which is very minor, is that the zipper is a left-handed "ladies" zipper. It's funny how something so minor can cause such confusion when you are consciously forced to think about how to zip and unzip something. I really like this think. Glad I bought it.
WORTH IT!!
Saw this release and couldn't believe the price. I pulled the trigger anyway because I love this company so much. This jacket is worth every penny. The quality is 5 star and it's fully lined just like there flannels. I need both colors!
It's Perfect. Fit, Weight, & Style.
The Co. Owner even sent me a personalized video thanking me for my order
Size Large
5'10 190lbs
My 2nd Nomad Jacket
My first one I got a 2XL and this one I got the XL. Reason? I sometimes like to wear sweater, sweatshirt under the jacket. Then I will go with the 2XL and wear the XL when I don't want to wear anything but the jacket. Again...very nice fitting and a GREAT zipper on the jacket. I have had quite a few where the zipper splits on me either putting it on or taking it off. NOT in this case! It looks good and is comfy to wear! I have been VERY happy with the pants, jackets, sweatshirt that I gave purchased from NBT!! Great quality stuff! Now...if I can get you guys to make a BIGGER riding glove for me! I need at least a 2XL or 3XL...long fingers.
Nomad Shirt Jacket
I love the fit of the Nomad a lot better than the flannel top. I love it. Nice fit. Ordering the second color next time.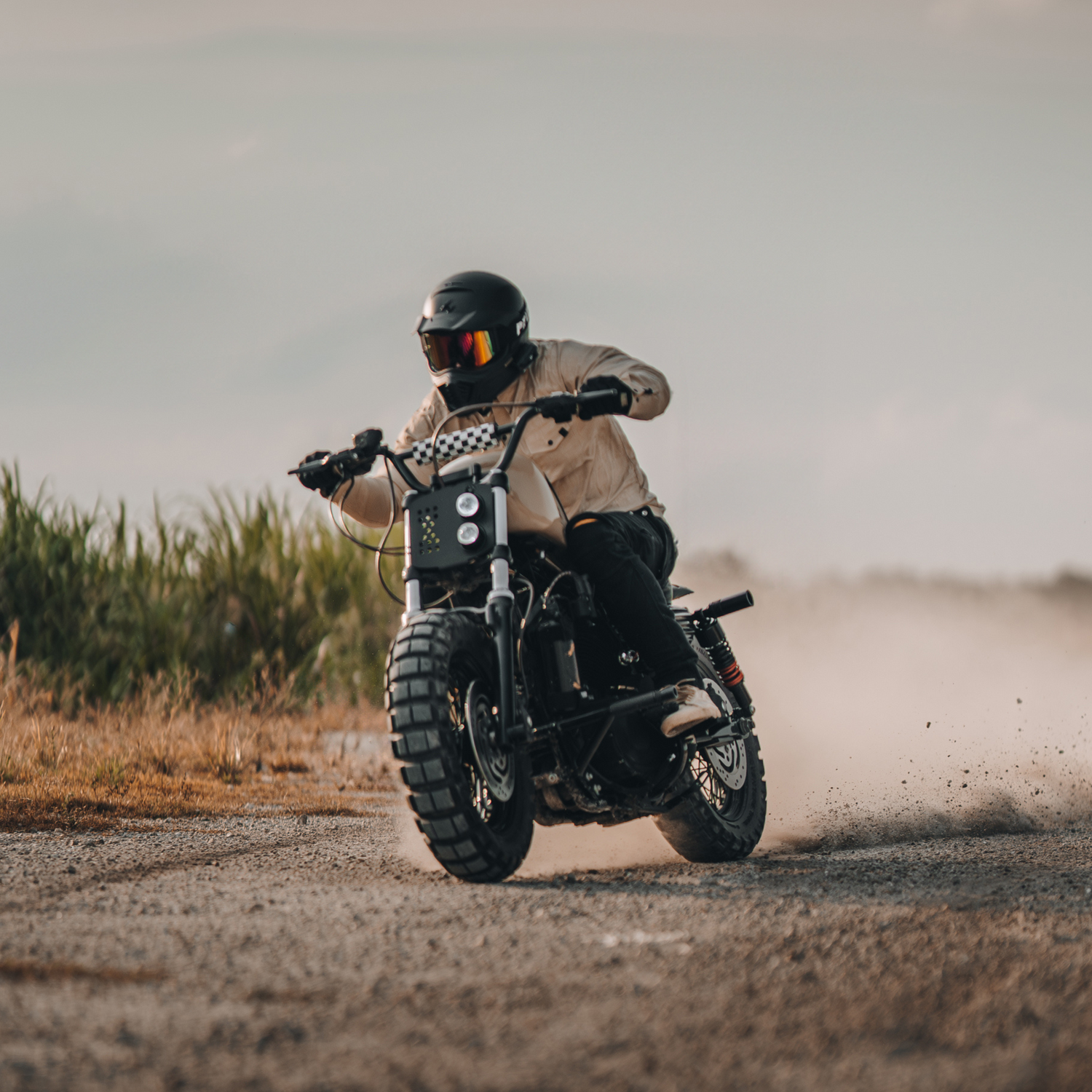 100% SATISFACTION GUARANTEE
You've got 30 days to be sure you love em', we'll even pay for return shipping. Though we promise you, you'll be hooked from your first ride.
FREE SHIPPING TO THE 48 CONTIGUOUS UNITED STATES
Comfortable motowear coming your way soon. All orders ship from our warehouse in Northern California. And no one likes to pay for shipping! Based Internationally? We'll still ship to you!
FREE WRECK REPLACEMENT
In the unfortunate event you wreck in our gear, we'll replace anything you were wearing that was damaged at no charge. We want to make sure you're fully prepared next time you ride.
Issues Your Nomad Shirt Jacket Will Address
Comfort

I got the Flannel riding shirt and it feels amazing and even when is hot outside I leave it open and I'm not overheatin

Jantzen

Road Rash

I really feel protected knowing it has the armor for impacts and the aramid for road rash. I love mine!

Noel

Fit

Perfect fit and dope style, wearing this all the timeeee

Argeny

Confidence

It is a well done flannel and I really feel it will protect me if I go down on the bike. 10 outta 10 will buy more gear from these fine folk!

Kimball

Style

Seriously one of the best riding flannels I own, love the fact that it looks really great and it has protection pads in it, love the quality of it.

Irwin