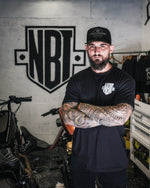 OVER 50% of motorcyclists ride unprotected
---
We're changing that statistic, one piece of NBT clothing at a time.
Our mission is to help every rider stay prepared and look good doing it.

For a long time, riders have had to make a choice about their gear. Do they want to be protected… or do they want to look good?

We started NBT Clothing to offer riders a better option.
Founded in 2021 by Nick Urso, NBT is driven by Nick's passion for all things motorcycle. We create motorcycle riding gear and accessories that are 'built for the journey and the destination'™.
Shop
Where it all began
It was April 2021. I was out for a ride and my worst nightmare came true. I laid my bike down! My knee smashed right into a brick wall. I could barely walk for a month. I was lucky I didn't get hurt a lot worse.
If I was wearing our LTR pants, I would have been fine. But like most riders, I was wearing regular jeans because all the riding pants I tried were bulky and uncomfortable. So I rolled the dice… right into that brick wall.

I've been riding for 11 years, and this was the worst thing that ever happened to me on a bike. I'm one of the lucky ones. I was shocked when I learned that nearly 20,000 bikers suffer road rash each year.

Do you own protective gear? If not, please check out our store. And if you have protective gear, get more!
NBT Clothing today: Style & safety redefined™. Ready to check out our products? Take a look below