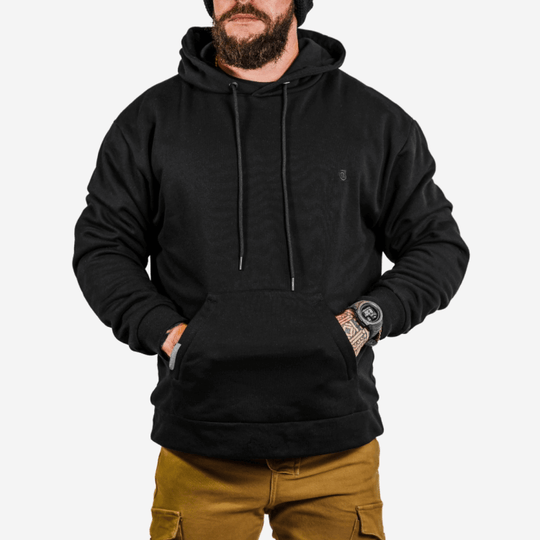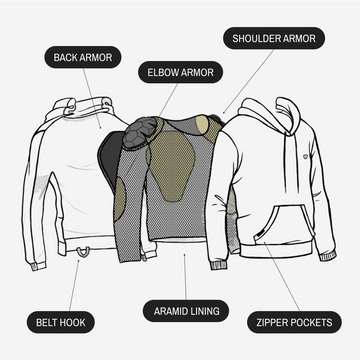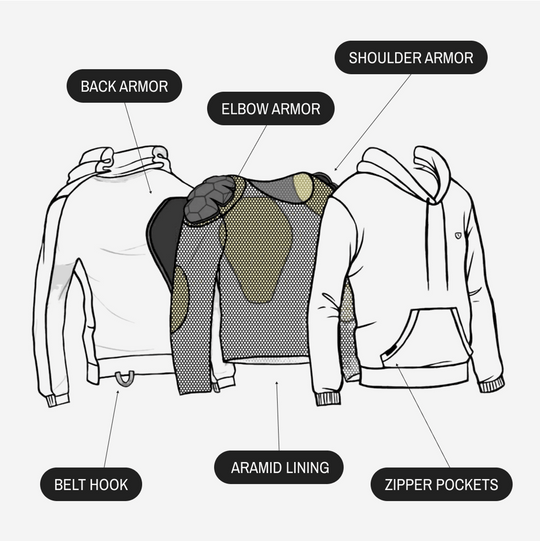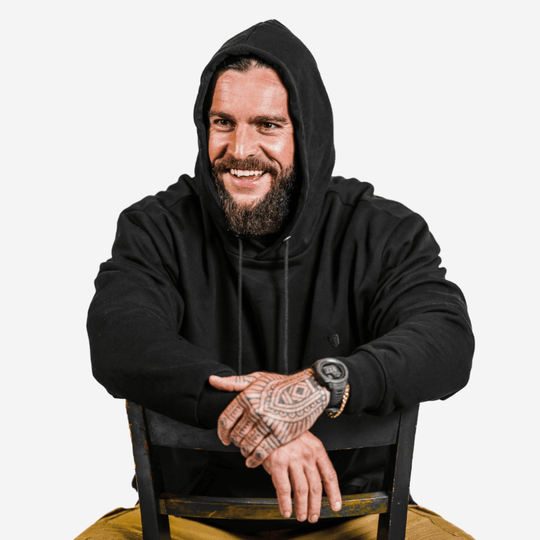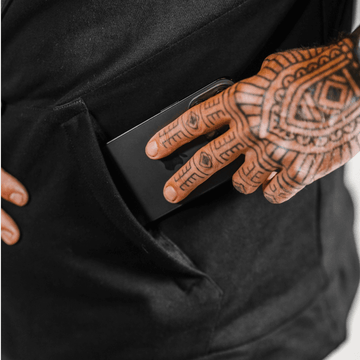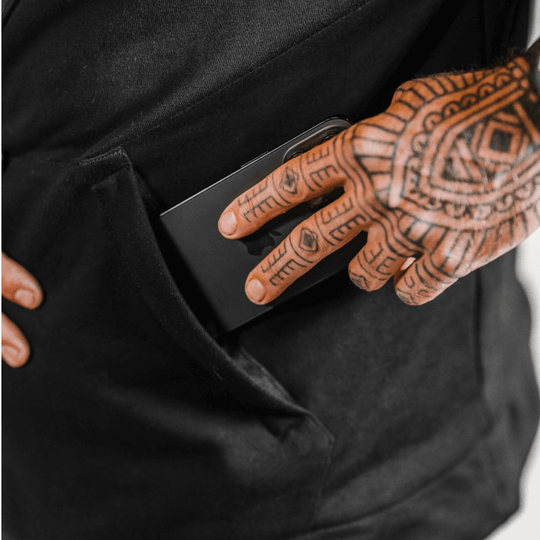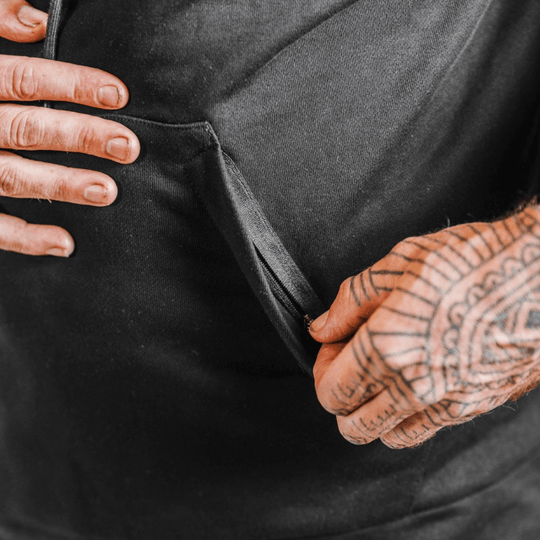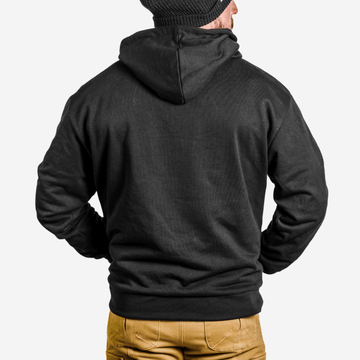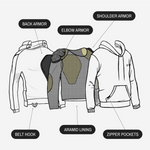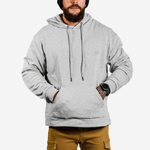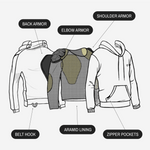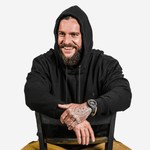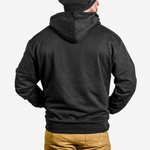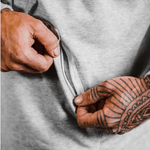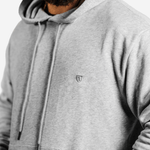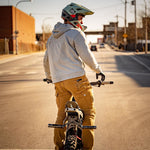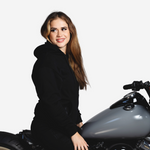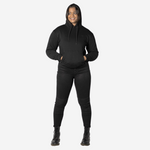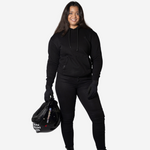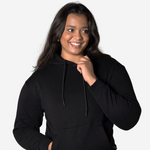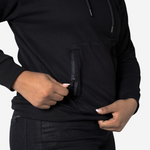 228 Entries
PROTECTION | STYLE | COMFORT
This Hoodie features our game-changing TensileTough™ lining.

Woven with ARAMID - 5x STRONGER THAN STEEL - the same fiber that stops bullets, tethers space shuttles and armors helicopters, we've created gear that belongs in a Bond movie.
We're so sure NBT will give you your most comfortable and confident ride we give you 30 days just to be sure you love them.
Aramid Slide Protection

Classic hoodie look with complete Moto upgrade

Polyester mesh interior lining for extra breathability

Free Removable CE armor in elbows, shoulders, and back to keep you safe
PERFORMANCE + DURABILITY

TensileTough™ aramid lining in elbows, shoulders, and back

High-quality material blend to optimize comfort, durability, and flexibility

Free CE-approved armor in elbows, shoulders, and back

Soft-to-the-touch cotton exterior

Polyester mesh interior for extra comfort

Large zip kangaroo pouch to secure your items

Belt loop prevents ride-up at high speeds

YKK Zippers
COMFORT + CONSTRUCTION

BUILT FOR THE JOURNEY & THE DESTINATION™

Designed with high-quality materials to optimize comfort, durability, and flexibility with NBT's anti-abrasion TensileTough™ technology.

Details

100% Aramid Lining shoulders, elbows, and back.
Reinforced Stitching in impact zones

Interior Lining

65% Polyester / 35% Cotton

Exterior Lining
Why Aramid?

Aramid is synthetic fiber that's 5X STRONGER THAN STEEL while still being SOFT and LIGHTWEIGHT.

We use it to keep you comfortable and protected from road rash.

Often used in bulletproof vests, aerospace materials, and racing suits, aramid is synonymous with TOP-OF-THE-LINE protection.

Ever heard of Kevlar? Kevlar is aramid fiber. At NBT we call it TensileTough® .
Care

Machine washable.
Remove pads before washing.
Wash with cold water.
No bleach.
Hang to dry.
Warm iron is OK.
Free shipping & Returns

100% Satisfaction Guarantee

We know the true test of any riding gear is how it feels. That's why we offer a 100% SATISFACTION GUARANTEE. You have 30 days to be sure you love em', we'll even pay for return shipping. If you decide they're not up to the job just send them back and we'll give you a full refund.

FREE SHIPPING

All orders of $150 or more will receive free ground shipping (US Only).
Size Guide
×
Men's Hoodies
| Size | XS | S | M | L | XL | XXL | XXXL |
| --- | --- | --- | --- | --- | --- | --- | --- |
| Chest | 44 | 46 | 48 | 51 | 54 | 57 | 60 |
| Sleeve Length | 23.5 | 24 | 24.5 | 25 | 25.5 | 26 | 26.5 |
| Back Length | 27 | 27.5 | 28 | 28.75 | 29.25 | 29.75 | 30.25 |
| Shoulder to Shoulder | 21.5 | 22 | 22.5 | 23.5 | 24.5 | 25.5 | 26.5 |
*all measurements in inches
CHEST
Measure around the widest part of the chest. Multiply this number by 2.
SLEEVE LENGTH
Measure from the shoulder to the end of the cuff.
BACK LENGTH
Measure from the neck to the hem.
SHOULDER TO SHOULDER
Measure from end of shoulder to end of shoulder.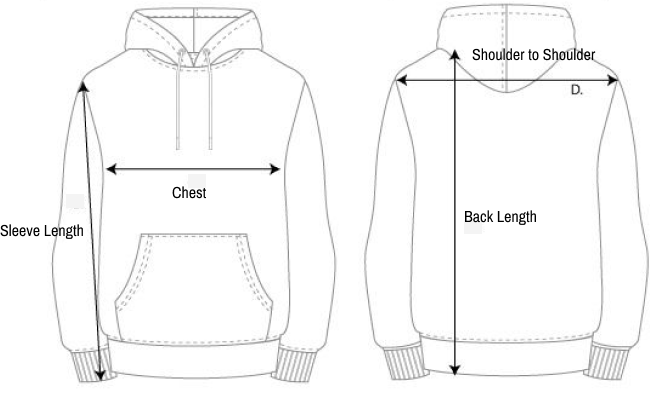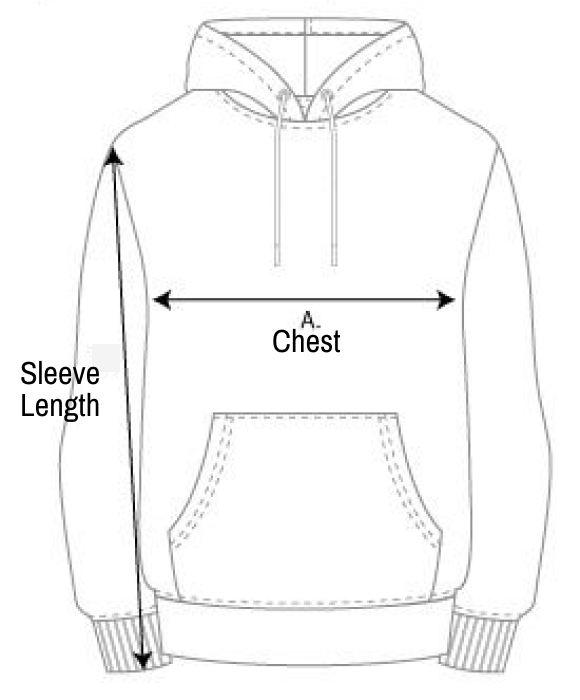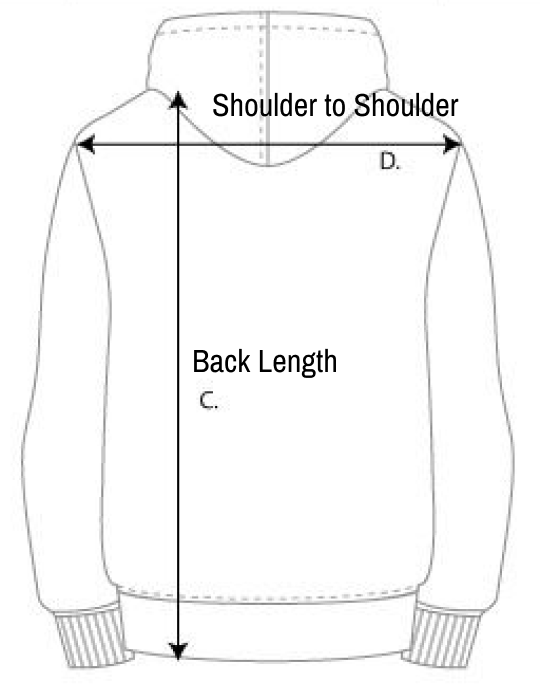 ×
100% Satisfaction Guarantee
Your NBT order has a 30 day satisfaction guarantee. If you decide they're not up to the job just send them back and we'll give you a full refund. We'll even pay for your return shipping.
Key Feature Overview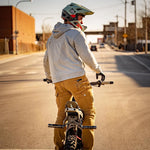 WHY SHOULD I BUY ARAMID LINED MOTOWEAR? IT'S SIMPLE.
Our Aramid lined motorcycle clothing offers the perfect combination or durability and comfort, providing riders with superior protection against abrasion and impact while making them comfortable on and off the bike.
Comfortable: Constructed with materials that are lightweight and flexible, making them comfortable and easy to wear.
Abrasion Resistant: Aramid is designed to resist tearing and wearing down, protecting you against road rash in the event of an accident.
Breathable: Aramid promotes airflow and prevents overheating, enhancing rider comfort while still protecting against abrasion.
Long Lasting: 100% cotton exterior and poly cotton interior built to withstand wear and tear offering you reliable protection for years to come.
Perfect Fit: Our virtual fit technology uses millions of data sets to ensure you find the size right for you.
New favorite riding gear
Comfortable, stylish, and safe.
Literally saved a life.
What you see in the photos attached to my review are the torn, tattered, and shredded remains of my wife's hoodie. Roughly three months ago, my wife purchased this hoodie and a green flannel jacket for myself. They were comfortable and moveable despite having pads and protective lining in them. Last month, my wife was in a terrible motorcycle accident and has not been released from the hospital yet, but she is alive and making huge progress in her recovery. This hoodie literally helped to save my wife's life from an accident that she should not have made it out of. Her bike ended up being a runaway, and before she could ditch it, she was carried off the road into a thick and dense area of foliage and trees. She suffered serious injuries from the speed of the impact, but none of them were life-threatening due to this jacket. The back armor protected her spine, so she only had a few cracked ribs. Her left arm suffered serious trauma from the impact force and was dislocated, and a fracture to the middle of her radius. Her elbow and shoulder were still intact, though as the shoulder set itself and her elbow moved perfectly. As for bleeding, she only had a minor laceration to her spleen.
While those injuries sound grizzly, they are not life-threatening and are easily fixed. In fact, the left arm and spleen were the least of the doctor's worries after the accident, as she sustained serious head trauma. She did have some bruises but no cuts, scrapes, or other open wounds anywhere that were protected by this clothing. The damage to her torso could have been so much worse, but this clothing kept branches from clawing at her skin, poison ivy from being all over her, and absorbed so much of the impact from what should have otherwise killed her to a couple of common injuries that are seen among athletes.
Once my wife woke up from the accident, she was disappointed to hear that the hoodie had to be cut off by EMTs. She was happy to know that it protected her and did its job perfectly. Today, I am purchasing another hoodie to replace this one. My wife's goal is to recover, get back out on the road on another motorcycle, and continue wearing clothing she knows she can trust to protect her when the worst-case scenarios occur.
Great Buy!!
This is a great piece of gear. The zippered pockets are perfect. Very happy with this purchase!
Amazing Hoodie
Ive had this hoodie for an entire season now and love using it whenever its too hot out for my full riding gear. Great alternative that keeps me safe or something I can wear if I want to ride my bike to meet up with friends in a casual outfit.
100% Satisfaction Guarantee
You've got 30 days to be sure you love em', we'll even pay for return shipping. Though we promise you, you'll be hooked from your first ride.
FREE SHIPPING TO THE 48 CONTIGUOUS UNITED STATES
Comfortable motowear coming your way soon. All orders ship from our warehouse in Northern California. And no one likes to pay for shipping! Based Internationally? We'll still ship to you!
FREE WRECK REPLACEMENT
In the unfortunate event you wreck in our gear, we'll replace anything you were wearing that was damaged at no charge. We want to make sure you're fully prepared next time you ride.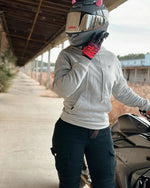 Issues Your Body Guard Hoodie Will Address
Comfort
The most comfortable riding hoodie. Fits true to size and armor sits in all the right places!
FAQs
What's my size?
We don't know! But we've found nerdy data scientists that do. On any product page simply click on the WaiR - WHAT'S MY SIZE button and follow the prompts to find your perfect fit. This technology uses datasets from millions of body scans to match your measurements to our clothing design details. Don't forget, we promise a perfect fit or your money back no questions asked for 100 days.
What is your return and exchange policy?
We know the true test of any riding gear is how it feels. That's why we offer a 100% SATISFACTION GUARANTEE. You have 30 days to be sure you love em', we'll even pay for return shipping. If you decide they're not up to the job just send them back and we'll give you a full refund. That was easy.
What is Aramid and what does it do?
Simply put Aramid is a badass material that was created by scientists who are much smarter than us. It is a high tech synthetic fiber known for its strength (5x stronger than steel) and heat resistance. Aramid is a strong, lightweight material that is commonly used in protective clothing, such as bulletproof vests and firefighter gear or in our case motowear. We use Aramid to line the majority of our products because we believe it's the most reliable material to protect you from road rash and keep you comfortable at the same time.
What does armor cost?
All NBT Armor is CE approved and included at no additional charge with your purchase. Unlike our greedy competitors (no hard feelings), we didn't feel right charging extra for the gear that keeps you safe. Protection is in our DNA and this keeps it that way. All of our gear comes with armor pockets that you can easily insert or remove when you get to where you're going. Remember, we're built for the journey & the destination.
How much is shipping?
We like to keep things simple. Shipping is FREE on all orders over $150, that's it. For orders less than $150 standard UPS ground shipping will be applied to your order at checkout.